Heinen & Hopman has a wealth of experience with HVAC systems for the offshore industry; a sector that is often faced with extreme weather, from tropical environments with high temperatures and humidity levels to extremely cold conditions with very low temperatures. We are also active in the more dangerous Zone 1 and Zone 2 locations, where safety is the highest priority.
No matter how demanding
At Heinen & Hopman, we partner with our clients to develop tailor-made solutions for any kind of offshore vessel, structure or facility: from FPSO to Gas Production Platform, Jack Up Unit or Drilling Rig. We have a vast experience onboard basically any kind of vessel. We're not afraid to think outside the box and incorporate clients' specifications in customised offshore HVAC systems, no matter how demanding. In addition, our engineers are always abreast of the latest offshore related classification requirements such as DNV, Lloyds, NDM and NORSOK. We can supply ATEX certified equipment as well.
Choose your vessel of interest to explore the possibilities
Our working method
How we work in 5 steps
1 - Consultancy & pre-engineering
Support with your inquiry by preliminary sizing of equipment, space reservation or excellent advice in system design. Writing a technical specification or assessing general arrangements are part of our daily business.
2 - In House project execution
Design and engineering of the best HVAC solution for your vessel after which our project teams prepare each project in every detail. At the same time the innovative cooling equipment is manufactured and tested in one of our factories.
3 - Delivery
Export or local road delivery, we transport all products according the 2020 Incoterms.
4 - On Site project execution
Installation by or under the supervision of H&H mechanics. Our commissioning engineers balance and start each system for handover to the client.
5 - After Sales
Clients can rely on our global service and 24/7 support.
Brochure
HVAC and Refrigeration For Offshore Vessels and Platforms
The offshore environment is harsh and unforgiving. It is essential that the work and off-duty environment of your skilled, highly-paid crew is as comfortable as possible. Heating, ventilation and other air-handling equipment needs to be as tough, efficient and safe as the structures themselves.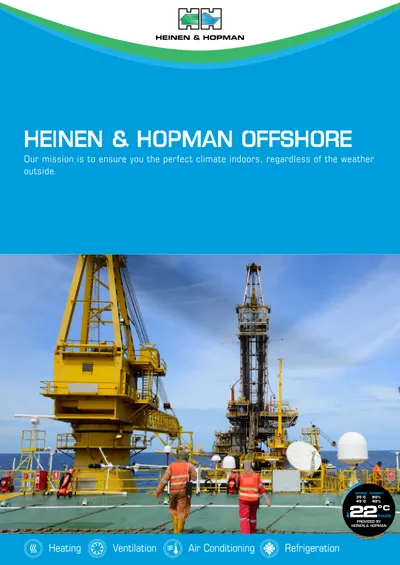 Heating, ventilation and other air-handling equipment needs to be as tough, efficient and safe as the offshore structures themselves.
Eric Stoffelsen - Sales Manager