HVAC Service
Our service department is there for answering service-related questions and HVAC emergencies. Some HVAC problems can be solved remotely and some problems have to be solved on-site by one of our service technicians.
Contractual service request
Do you want to rely on 24/7 service in case of an HVAC emergency? In that case we advise you to conclude a 24/7 service contract. Heinen & Hopman has defined three different service levels; called Standard, Comfort and Total Control. Guaranteed 24/7 phone availability is included in every service contract. Furthermore, clients with a service contract get access to our Service Portal and mobile application, where all service tickets are registered and clients can get a spare parts quote easily.
Non-contractual service requests
Whenever a system malfunction occurs, Heinen & Hopman can be contacted at +31 (0)33 299 2500 or via the form on this page. During office hours (08:00 A.M. – 05:00 P.M. GMT+2) one of our service employees will handle your inquiry. Outside office hours, our call centre will take your call and assure our service department gets your message. We will do our utmost to reply within 24 hours from your message, however this cannot be guaranteed.
Heinen & Hopman Headquarters
Produktieweg 12
3751 LN Bunschoten
Netherlands
Read more
Brochure
24/7 Service Contracts
To count on a perfect healthy HVAC system a 24/7 service contract is recommended. Heinen & Hopman offers 3 service levels to meet your needs and wishes.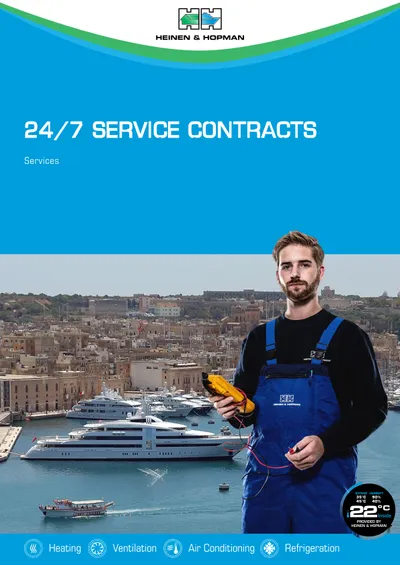 We support our clients with personal service and proactive advice; before, during and after developing a solution.
Jaco Heinen - Service & Maintenance Manager