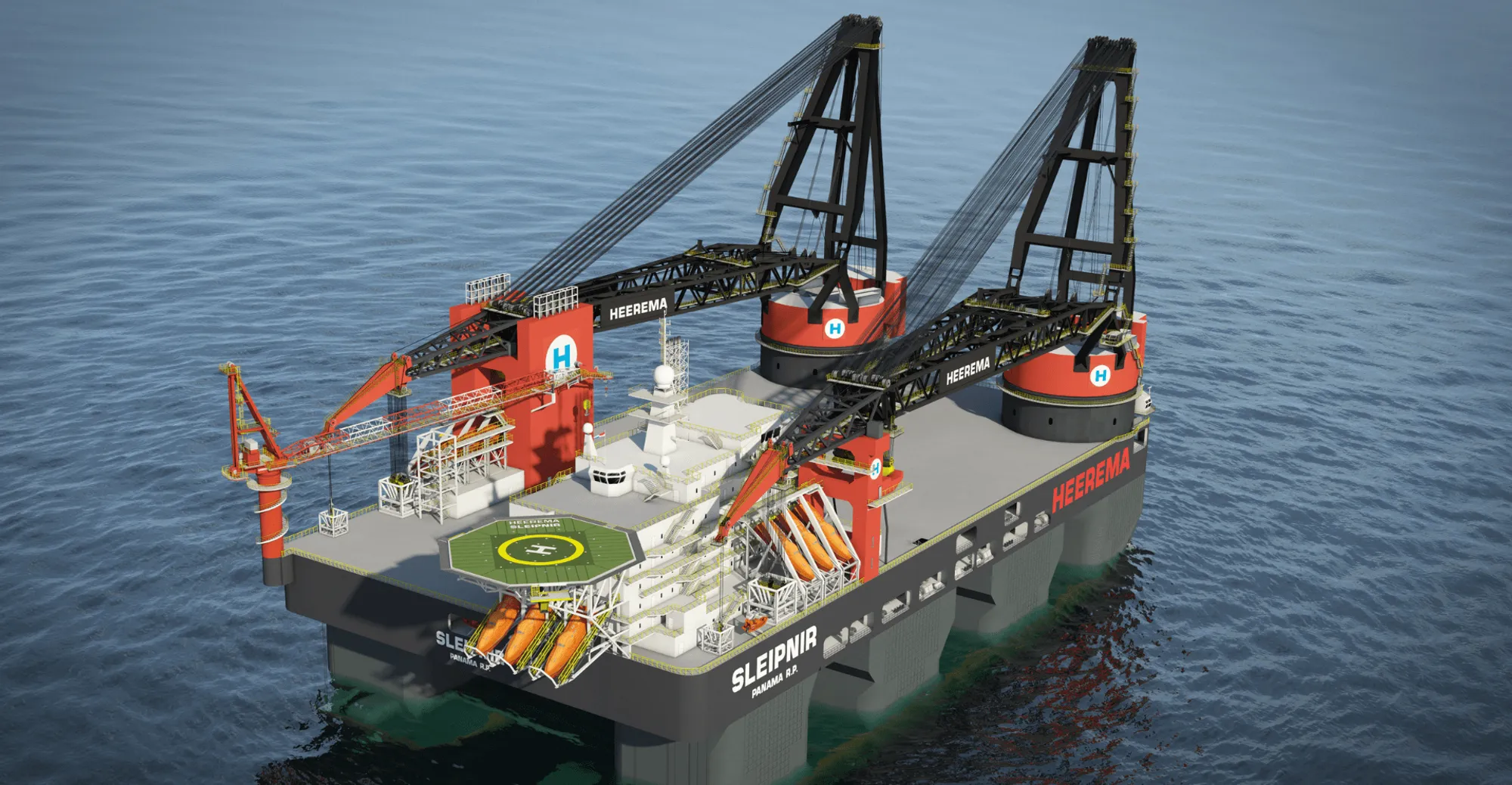 | | |
| --- | --- |
| Delivery year | 2019 |
| IMO NO. | T.B.A. |
| Length | 220 M |
| Name vessel | Sleipnir |
| Owner | Heerema Marine Contractors |
| Shipyard | Sembcorp Marine |
| Subsidiary | H&H Singapore |
| Vessel type | Crane Vessel |
HVAC | Sleipnir
Heinen & Hopman Singapore has, with support from Heinen & Hopman Headquarters, successfully delivered the HVAC system for world's largest semi-submersible crane vessel. The vessel is 220 meters in length, with a width of 102 meters, constructed by Sembcorp Marine. It is named Sleipnir, after Odin's eight-legged stallion from the Norse mythology. Sleipnir is legendary for its strength, courage and speed.
New-generation crane vessel
Sleipnir is a new-generation semi-submersible crane vessel with two revolving cranes that each can lift 10.000 tonnes and 20,000 tonnes in tandem – no other existing crane vessel has this capability. The vessel can accommodate up to 400 persons and will be deployed by Heerema Offshore Services for installation and decommissioning of major offshore facilities worldwide. The vessel is also the first dual-fuel crane vessel, with engines running on MGO and LNG for sustainable operation across all environmental jurisdictions.
HVAC by Heinen & Hopman Singapore
Heinen & Hopman supplied the HVAC system, which consists of six different zones that comprises of twelve chillers serving twenty-two main air handling units. The HVAC system had to be energy-efficient, work fully automatic and operate safe while meeting the strict offshore requirements.
To meet the requirements, each air handling unit is equipped with an enthalpy wheel to recover waste energy. Next to that, a variable primary flow (VPF) system is adopted for the chilled water system. All the pumps are variable speed controlled which regulates the pump speed according to the systems demands. This translates into a higher system efficiency which lowers the operational costs.
The main challenge was the collaboration between the client, shipyard and equipment suppliers in the various integration phases to complete and handover the project within the project schedule. In total, 285.000 man-hours were utilized in a period of 36 months to complete the project.
Design conditions
The HVAC system is based on the following design conditions:
Summer conditions
Outside: 35˚C/80%RH
Inside: 16˚C
Winter conditions
Outside: -20˚C/35%RH
Inside: 16˚C
Classification
All relevant systems are installed in compliance with LRS, NMA, DSB, USPH, NIPH, Lloyds ECO/notation and Eurovent, where applicable. As a result, the systems are fully customized to meet the strict offshore requirements.
More information
Would you like to get more information about our HVAC solutions for crane vessels? Don't hesitate to get in touch. We are eager to inform you about the possibilities.