| | |
| --- | --- |
| Country of delivery | Croatia |
| Delivery year | 2019 |
| IMO NO. | 9797371 |
| Length | 165 m |
| Name vessel | Scenic Eclipse |
| Owner | Scenic |
| Shipyard | Uljanik JSC Pula |
| Subsidiary | H&H Headquarters |
| Vessel type | Expedition Cruise Vessel |
HVAC | Scenic Eclipse
Scenic Eclipse, the world's first Discovery Yacht, is a six-star mega yacht developed by Australian cruise operator Scenic. Designed to deliver a truly once-in-a-lifetime experience for just 237 guests – catered by a crew of 180 – accommodated in 114 cabins, Scenic Eclipse takes ocean cruising to a whole new level, providing the opportunity to explore the most beautiful destinations on earth.
Luxury and adventure
Suites with private verandahs, an exclusive spa sanctuary, butler service for every guest and an abundance of space onboard. These are just some of the elements that provide a 6-star cruising experience. Besides the ultimate luxury experience onboard, the Scenic Eclipse features numerous discovery experiences: shore excursions, zodiac excursions, kayaking, scuba-diving, helicopter flights and even sea exploring in a submarine. From the Arctic to Antarctica and everywhere in between.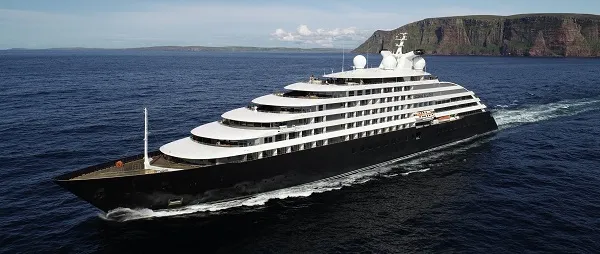 Heinen & Hopman HVAC
Heinen & Hopman was awarded the contract to supply the HVAC for the complete ship as well as the provision cooling system.
Design conditions
The following design conditions were requested for this project:
Outside-Inside Tropical
Outside: +35˚C/85%RH
Inside: +22˚C/55%RH
Outside-Inside Arctic
Outside: -15˚C/–%RH
Inside: +22˚C/30%RH
Challenges & Solutions
Limited space
Scenic Eclipse is a luxury cruise ship with many of the qualities of a superyacht. This also means that the space for HVAC is very limited due to the large number and sizes of cabins with high ceilings. Hence limited space for ventilation and all other disciplines.
This has resulted in out of the ordinary solutions when it comes to finding space for ducts and equipment such as:
Clever split-up of air handling unit systems in zones, reducing space requirements for ducting.
Combining inlets/outlets, reducing required ducting and number of grills.
Utilizing the smallest available spaces, such as the space in between raised floors and double walls.
Customizing our main equipment to fit small technical spaces.
Saving energy
Compared to a yacht, for this project there was a high focus on reducing energy consumption. We have supplied energy-saving systems such as:
Rotating enthalpy exchangers.
Variable speed AC, fresh air and fans controlled by air demand on CO2 values monitoring (public areas).
Engine waste heat recovery.
Full SCADA control including emergency saving systems. For example, an automatic setpoint adjustment control on the air handling units based on outside air temperature.
Automation
The ship has been equipped with a 100% redundant standalone HVAC control system. Equipped with an Ethernet TCP/ IP communication network – with fiberglass backbone – to ensure sufficient bandwidth and speed of data transfer.
Many levels of operation are herewith possible such as:
Local control of the HVAC equipment.
Over all monitoring and control on two central PCs (located in the control room and wheelhouse).
Remote monitoring and control via guarded/ firewall protected controls, which allow for remote software updates, modifications and maintenance.
Cabin AC
The cabins have been equipped with one or more Cruise Fan Coil Units. They are built in, in such a way that they are invisible to the guests but still remain serviceable. The thermostat is a newly designed wall mounted unit, 4 inch touchscreen display. It controls the room's temperature by cooling, variable automatic airflow and stepless reheating.
All fan coils have also been connected to the monitoring system. They have an interface with balcony doors and hotel management for automatic adjustment to ECO/Ventilation mode on occupancy or presence. In ECO mode, it reduces the fresh air supply and exhaust to maximize energy savings.
Safe Return to Port class requirements
The vessel has been built in compliance with Safe Return to Port requirements, meaning that the passengers and crew must have a safe area in the vessel – with proper climate conditions and food/water – in case of fire or flooding.
The HVAC systems have been designed in such a way that they remain functional in designated areas when one of the main vertical fire zones or a water tight compartment is compromised.
This has been achieved by designing redundant piping systems and independent ventilation zones. Furthermore, the capacities of main equipment for cooling, heating and provisions have been split up to accommodate each main vertical fire zone.
Prevention of aerosol distribution
In order to prevent aerosol distribution additional measures have been taken. The fresh air intake per person is kept to a maximum and incoming fresh air is filtered. Furthermore the relative humidity is kept above 40% and the air quality is monitored 24/7 using CO2 sensors. All guest cabins, stairways and the spa are additionally protected with UV-C light technology incorporated into the air conditioning systems.
Scenic Luxury Cruises & Tours took delivery of Scenic Eclipse on 26 July 2019 from Uljanik Shipyard. A sistership – Scenic Eclipse II –  will be built by MKM Yachts in Rijeka, Croatia. Heinen & Hopman has already started engineering and the chillers are currently being built at our workshop.