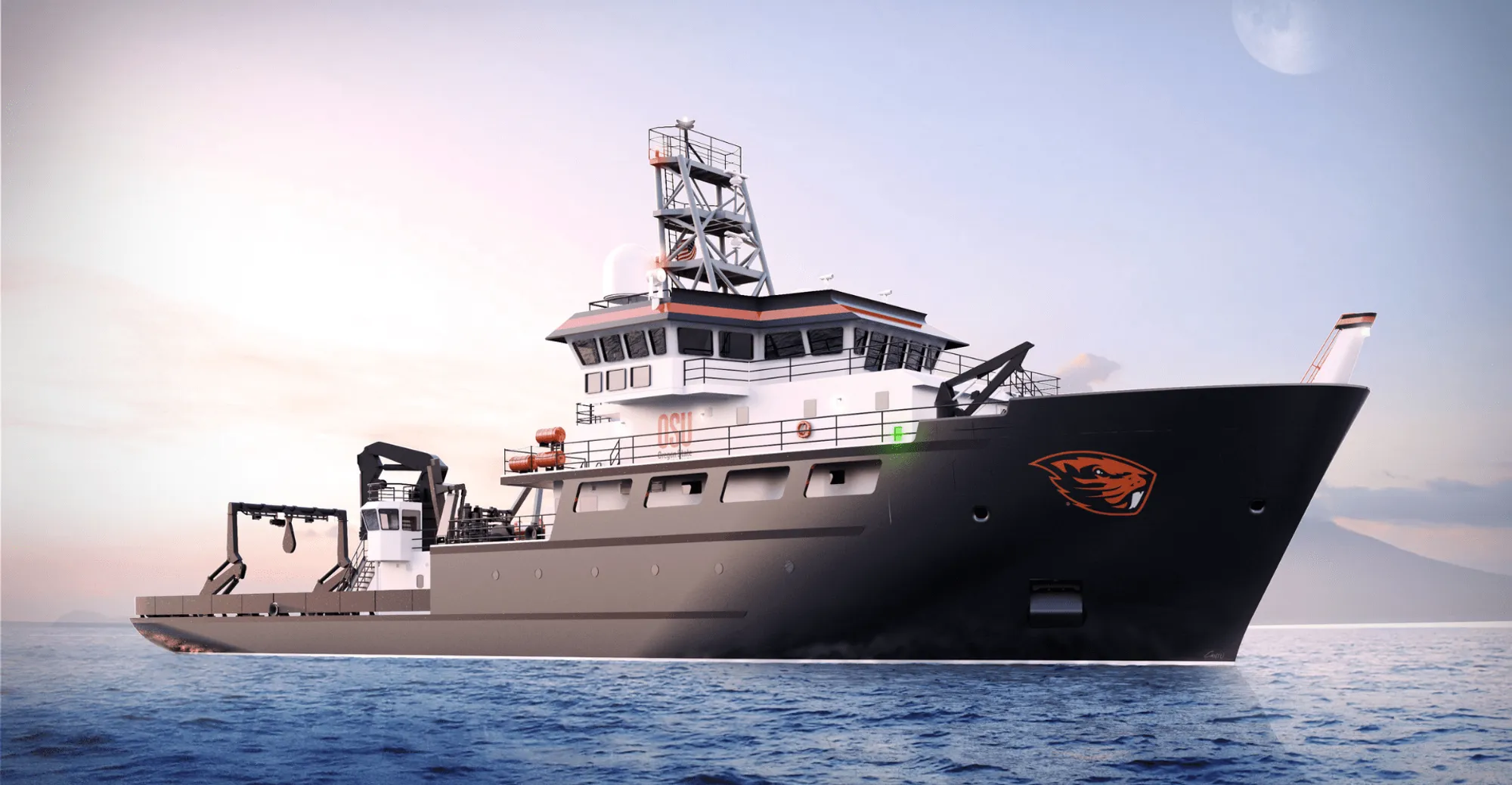 | | |
| --- | --- |
| Country of delivery | United States of America |
| Delivery year | 2020 |
| Length | 193 ft (58,8 meters) |
| Owner | National Science Foundation, operated by Oregon State University |
| Shipyard | Gulf Island Shipyards, LLC |
| Subsidiary | LeBlanc & Associates, LLC |
| Vessel type | Research Vessel |
HVAC&R | Research Vessel for Oregon State University
We're proud to announce that our subsidiary LeBlanc & Associates, LLC was awarded the contract to supply the HVAC&R for an oceanographic research vessel, to be built by Gulf Island Shipyards, LLC for Oregon State University.
Better understanding our changing oceans
Oregon State University has just received a grant of $121.88 million from the National Science Foundation to spearhead the construction of a new class of research vessels for the United States Academic Research Fleet. The first vessel is slated to be operated by OSU for research missions focusing on the U.S. West Coast. This new class of modern well-equipped ships is essential to support research encompassing marine physical, chemical, biological and geologic processes in coastal waters. These new vessels will provide valuable scientific capacity for better understanding our changing oceans.
Special emphasis is put on minimizing noise and vibration
LeBlanc & Associates, LLC will deliver the HVAC, mechanical ventilation and provision cooling for the research vessel. In order to ensure proper performance of the scientific instrumentation on board, there is special emphasis on minimizing vibration, airborne noise, and underwater radiated noise from equipment on board the ship. An engine waste heat recovery system will be used to support the vessel heating load, making the HVAC system more energy-efficient.
Design Conditions
The HVAC installation has been designed to maintain the following inside conditions at the stated ambient conditions:
Outside-Inside Summer
Outside: 37˚C/90%R.H.
Inside: 24˚C/55%R.H.
Outside-Inside Winter
Outside: -/-20˚C
Inside: 21˚C
More information
Would you like to know more about our HVAC&R solutions for research vessels? Don't hesitate to get in touch!