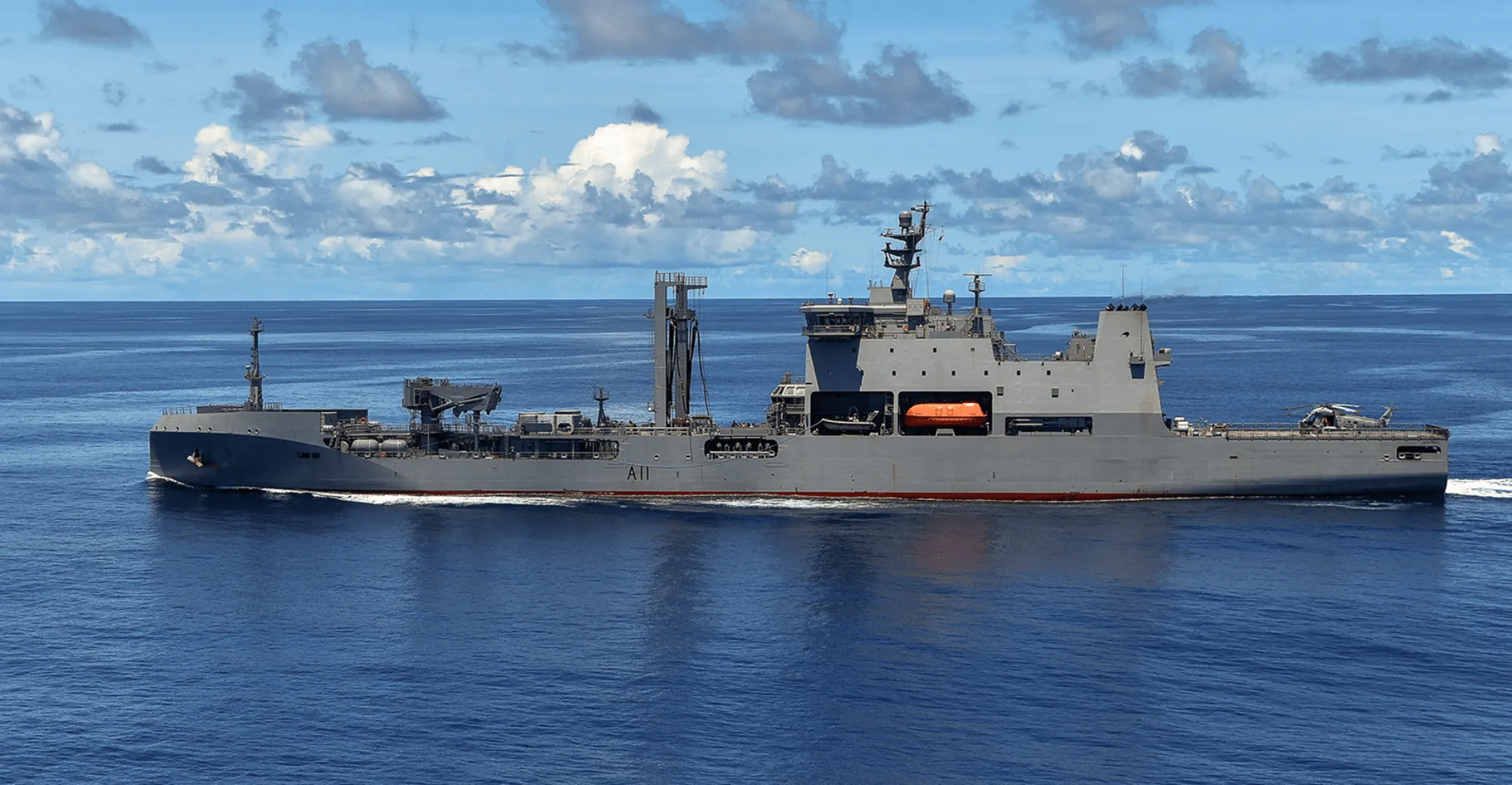 | | |
| --- | --- |
| Country of delivery | South Korea |
| Delivery year | 2020 |
| IMO NO. | 9816220 |
| Length | 173.2 m |
| Name vessel | HMNZS Aotearoa |
| Owner | New Zealand Defence Force |
| Shipyard | Hyundai Heavy Industries Co., Ltd |
| Subsidiary | H&H HQ in cooperation with H&H Korea |
| Vessel type | Support Ship |
HVAC&R | HMNZS Aotearoa
We're pleased to announce that Heinen & Hopman Headquarters in cooperation with Heinen & Hopman Korea was has been awarded the contract to supply the HVAC and Refrigeration for a Maritime Sustainment Capability (MSC) Vessel, to be built by Hyundai Heavy Industries Co., Ltd for the New Zealand Defence Force (NZDF) as part of their Maritime Sustainment Capability (MSC) project. This project will replace the New Zealand Navy's 30-year-old tanker HMNZS ENDEAVOUR in order to maintain the NZDF's replenishment capability.
NZDF
The NZDF is responsible for delivering a well-trained and equipped defence force that can respond to a crisis at short notice and protect its territory and oceans. The newest addition to the naval fleet will support a full range of NZDF deployments, including maritime sustainment and humanitarian and disaster relief operations.
Enhanced naval tanker
The South Korean-built naval tanker will be ice-strengthened and winterized for Antarctic and Southern Ocean operations. Being the largest Naval vessel operated by the Royal New Zealand Navy, the ship offers comfortable accommodation for a maximum of 98. It will have two NATO probe fuelling rigs, allowing the refueling of two ships at once, produce and store water, store and transport bulk goods and 8,000 tons of diesel.
Heinen & Hopman HVAC and Refrigeration
The following systems & services will be supplied:
Air conditioning system
Local cooling system
Chilled water system
Mechanical ventilation systems
Provision cooling system
Integrated Logistics Support (ILS)
Sturdy, custom-built equipment suitable for marine application will be used in order to guarantee the requested 25-years lifetime, but also to increase the commonality of parts throughout the RNZN fleet.
Together with our training programs and our local In-Service Support in New Zealand, the RNZN is secured of high availability of the HVAC and Refrigeration systems onboard this vessel for decades.
Design conditions
The following design conditions were considered for the design and engineering of the systems:
Summer conditions
Outside: 45˚C / 33.3%R.H.
Inside:24˚C / 50%R.H.
Winter conditions
Outside: -25˚C
Inside: 22˚C / 50%R.H.
Classification
DEF(AUST)5000 + LNR
More information
Would you like to get more information about our HVAC and refrigeration technology for naval ships? Don't hesitate to get in touch.