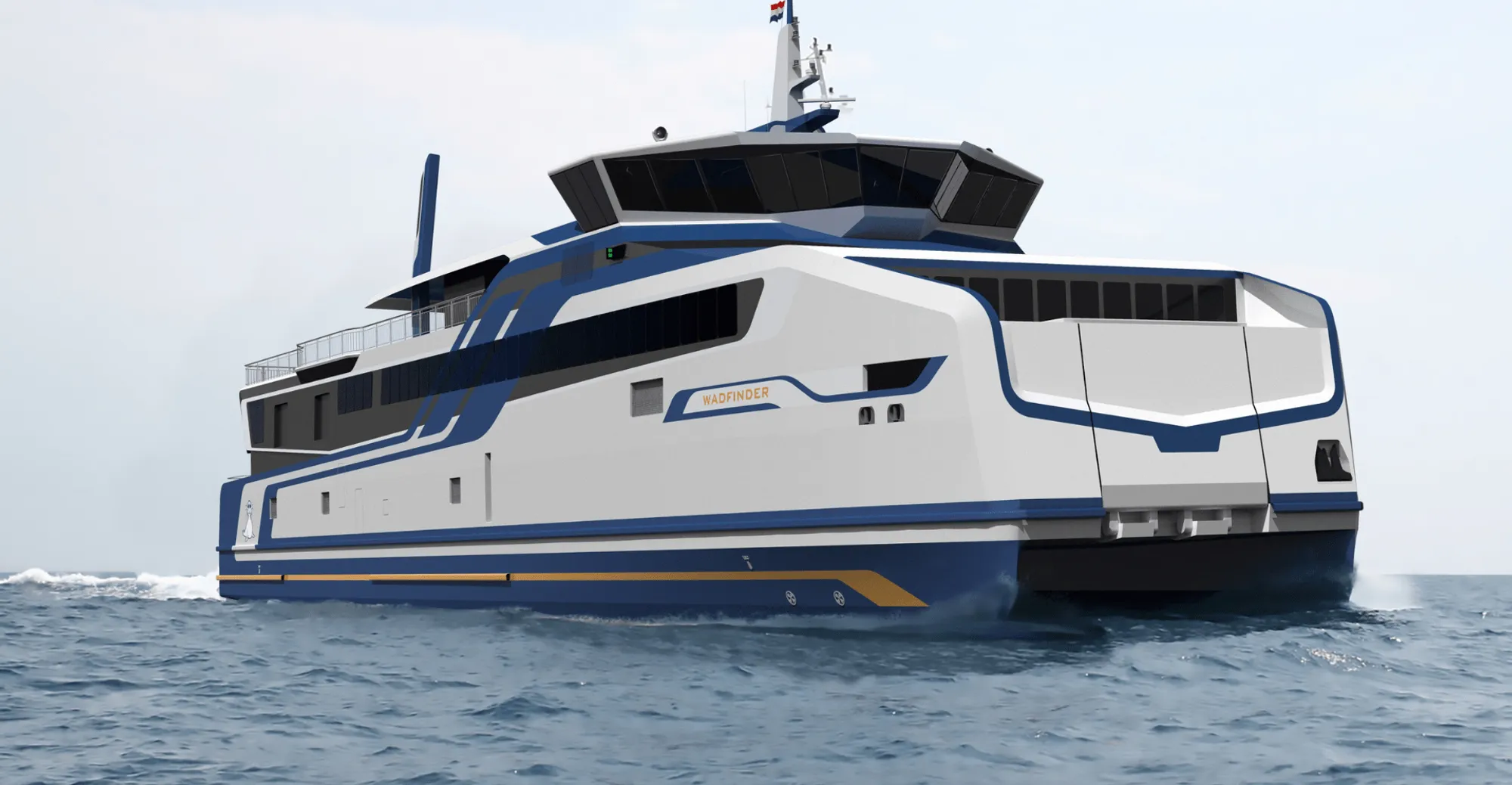 | | |
| --- | --- |
| Country of delivery | Vietnam |
| Delivery year | 2018 |
| IMO NO. | T.B.A. |
| Length | 70.0 m |
| Name vessel | T.B.A. |
| Owner | Rederij Doeksen |
| Shipyard | Strategic Marine |
| Subsidiary | Heinen & Hopman Singapore |
| Vessel type | RoPax Ferry |
HVAC | LNG Powered Ferries
H&H Singapore secured a contract with Strategic Marine to deliver the complete heating, ventilation & air conditioning (HVAC) system for two 70m Aluminium RoPax ferries for Dutch ship owner 'Rederij Doeksen'. H&H Singapore is proud to welcome Strategic Marine as a new client. Strategic Marine is an Australian-based shipbuilding company with shipyards in Australia, Singapore and Vietnam.
Both vessels will be deployed for cross island transportation in the Wadden Sea between Harlingen and the islands of Terschelling and Vlieland, all in Dutch waters. The Wadden Sea is environmentally recognised a World Heritage area so in order to minimize the impact on the environment; sustainable, environmentally friendly and energy-efficient solutions will be implemented in these new vessels.
LNG Fuelled
One of these solutions is the use of environmentally friendly fuels. For these vessels a Liquefied Natural Gas (LNG) fuel system will be implemented. Compared with conventional diesel fuelled engines, LNG fuelled engines produce no sulphur oxide, 99% less particulates, 85% less nitrogen oxide and 25% less carbon dioxide.
At atmospheric pressure the LNG is completely liquid at -162°C. This is the most efficient way to store the LNG as the volume of the substance in a liquefied state is approx. 600 times smaller than in gaseous state. Before the LNG can be used as fuel it needs to be heated, evaporated and compressed.
Waste heat recovery
A lot of energy is needed for the process of heating, evaporation and compression. This energy will be provided by a dedicated water-glycol mixture system. This water-glycol system will be connected to the central heating system. The heat will be generated by a gas fired boiler.
In order to not have to fully generate this heat, these vessel will be provided with the waste heat recovery of the engines and auxiliary engines' jacket water. Heat exchangers will be placed between the central heating and the engines' jacket water system. This way the waste heat in the engines' jacket water can be utilized for air conditioning purposes as well as heating for the LNG fuel system.
The central heating system including the gas fired boiler will be supplied by Heinen & Hopman.
Close cooperation
Benefiting from the combined strength of H&H Singapore and H&H Headquarters, the success of the project is likely guaranteed: H&H Singapore has the best local contacts in Vietnam, where the ferries will be built, and will therefore handle the project management and assist the shipyard during the complete engineering and building stage. All main equipment is produced in the Netherlands by the H&H Headquarters. As the ferries will be deployed in the Netherlands too, the owner is assured of strong service and maintenance possibilities.
HVAC advice for your project?
Interested in receiving advice fully customized to your project? Please don't hesitate to get in touch.