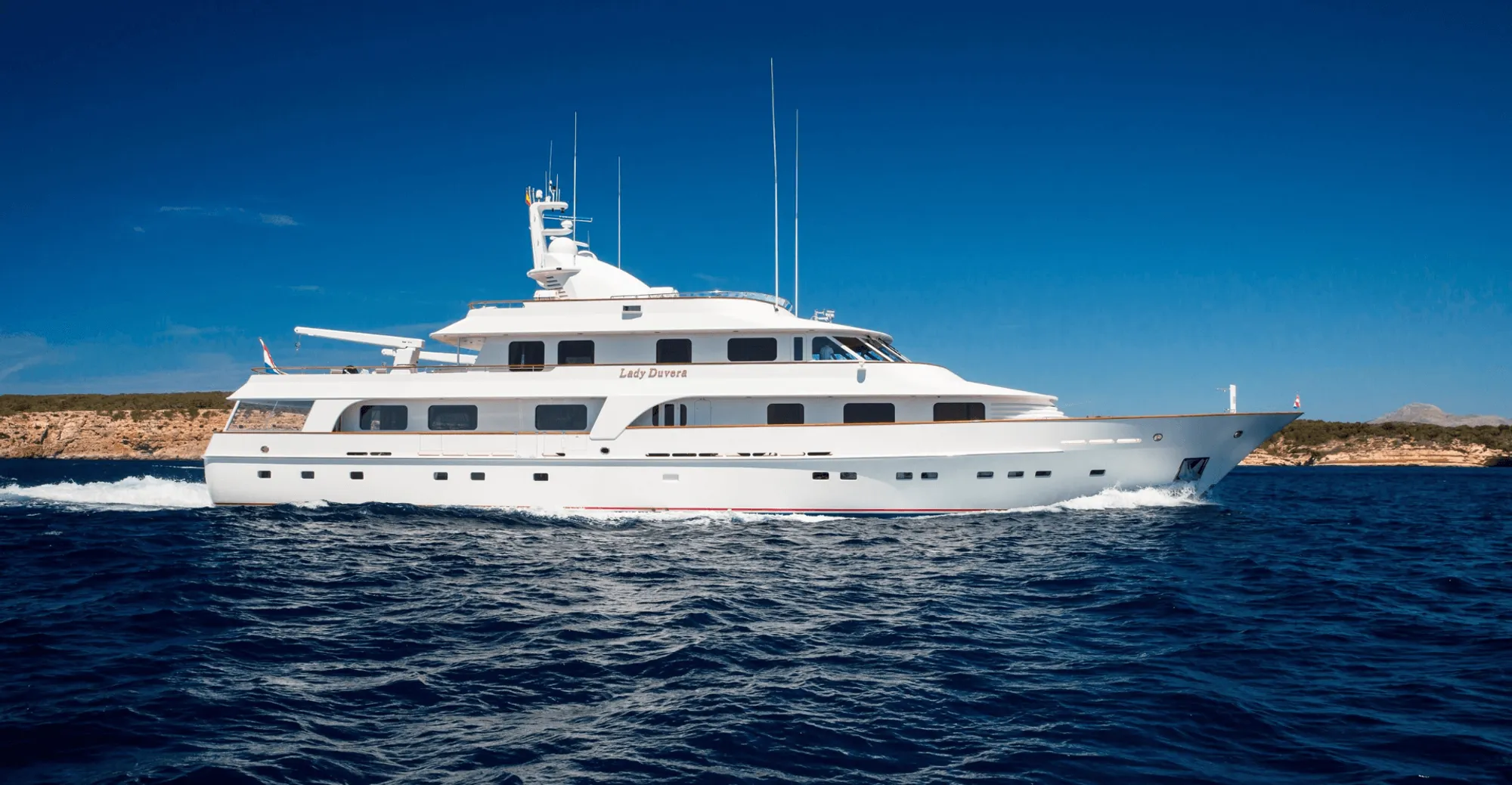 | | |
| --- | --- |
| Country of delivery | Spain |
| Delivery year | 2017 |
| IMO NO. | 1006568 |
| Length | 43.6 M |
| Name vessel | Lady Duvera |
| Owner | Lady Duvera Shipping Company |
| Shipyard | STP Yard Mallorca |
| Subsidiary | Heinen & Hopman HQ |
| Vessel type | Motor Yacht |
Chiller Replacement | MY Lady Duvera
MY Lady Duvera, originally built by Hakvoort Shipyard in 2000, is a stunning vessel accommodating up to 10 guests in five luxury staterooms. Lady Duvera has been constantly upgraded and maintained  to be kept to Lloyds and MCA class. In 2017, the experienced owner decided the yacht was in need of a chilled water unit replacement. The chiller replacement has been carried out by Heinen & Hopman at STP Yard in Mallorca, a shipyard that specializes in refit and repair activities.
Working on a time crunch
In general, time is scarce for refit projects and working on a time crunch was challenging, but Heinen & Hopman  has cooperated to provide good service. Mannie Avenia, captain of MY Lady Duvera, comments: "In general the service has been very good, occasionally in the past it was hard to get assistance in Spain, but this past year has got much better."
Chiller replacement
After dismantling the existing chilled water unit – together with the seawater pump and chilled water pump – a custom-built Heinen & Hopman seawater cooled chilled water unit has been placed inside the engine room. The chilled water unit is equipped with a load bank, which allows for applying extra electrical load to the chilled water unit. This way, the electrical load on the generator can be optimized, resulting in a longer generator lifespan. Capt. Avenia: "The removal of the old unit and the installation of the new one went well. The work done is very good."
More information about our refit service?
When asked if he would recommend Heinen & Hopman to other yacht captains, Mr Avenia answers: "I certainly would, I believe the products are of fine quality as are the installations and after sales service."
Don't hesitate to get in touch for more information!