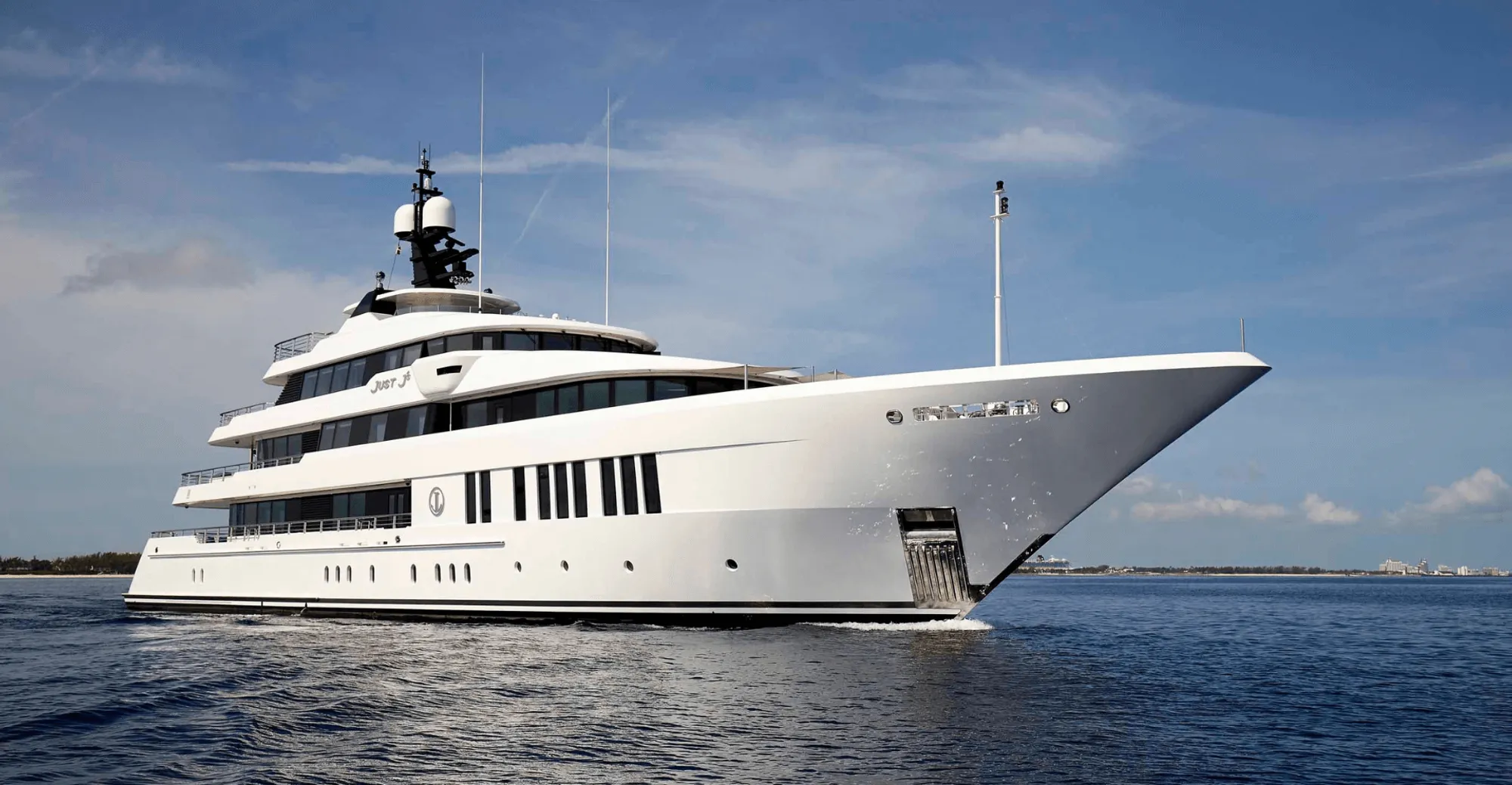 | | |
| --- | --- |
| Country of delivery | The Netherlands |
| Delivery year | 2016 |
| IMO NO. | 1012567 |
| Length | 61.00 m |
| Name vessel | Just J's |
| Owner | Confidential |
| Shipyard | Hakvoort Shipyard |
| Subsidiary | H&H Headquarters |
| Vessel type | Motor Yacht |
HVAC System | MY Just J's
Just J's is a stunning motor yacht built by Hakvoort Shipyard in Monnickendam, the Netherlands. It's the largest superyacht delivered by Hakvoort to date. Heinen & Hopman was called in to engineer, manufacture and install the climate control system.
Hakvoort Shipyard
The shipyard in Monnickendam, which was purchased by Albert Klzn Hakvoort in 1919, has a history dating way back to 1780. Hakvoort Shipyard started out building fishing vessels, moving into the yacht building niche as the demand for pleasure sailing grew. As befits a family business, the yard passed down from father to son several times, remaining in family hands throughout decades. In order to be able to handle big projects like Just J's, the shipyard's main construction shed was extended in 2012.
Hakvoort's largest yacht ever built
The 61-metre Just J's is the largest yacht ever built by Hakvoort. It features Sinot Yacht Design exterior and interior. Naval architecture, construction and engineering design for this project was done by Diana Yacht Design. One of the striking features is the positioning of four guest suites and VIP stateroom on the main deck, ensuring that guests have superb views.
A perfect indoor climate to complement the interior
The owners collaborated closely with Sinot Exclusive Yacht Design to give each deck its own personality. In order to stay in perfect condition, the luxurious interior depends on high-quality climate control. Heinen & Hopman has installed three main systems, following the owners' needs:
Air conditioning
The heart of the installation is a seawater-cooled chilled water maker of almost 300kW, provided with frequency drives for constant speed control. Two main air handlers cool or heat the air conditioning supply air and control the air humidity in both summer and winter conditions in order to obtain a perfect indoor climate. Each cabin has a comfort temperature display panel. Additional fan coils are placed in the crew cabins, galley, laundry room, spa tender space and wheelhouse in order to keep room temperatures under control, even in hottest and most humid outside conditions. Twelve extraction fans are placed in both the accommodation as well as in technical spaces to provide the required air changes. Of course air supply systems are connected to the same rooms to make sure a slight overpressure is maintained at all times to protect the inside of the yacht against pollution from outside.
Engine room cooling
The engine room is equipped with two supply fans for combustion air for the main engines and generators, while two large sea water fed coolers remove all the generated heat and maintain a steady engine room temperature. At low propulsion or generator use only, the noise pollution from the engine room is minimal. A separate cooling system is installed in the emergency/harbour generator room.
Fridge and freeze system
H&H has also supplied and installed a custom-made fridge and freeze system, both with a volume of 5m³ and a separate garbage storage. The water-cooled compressor unit is completely double executed to assure reliability. The stainless stores are finished according to the highest degree of luxury.
A puzzling project
The challenge for H&H was to fit a total air treatment system (VAV-system) into a yacht of this size. Normally VAV-systems are placed in larger accommodations, but thanks to the cooperation with Hakvoort we managed to install all the equipment and air ducting. Additionally, the fan rooms have been engineered and manufactured in a way that service and maintenance is very well possible. Quite an achievement of the engineering group that worked on this special project.
MY Just J's was delivered to her owner in February 2016. In the meantime, Just J's won't remain the largest Hakvoort for long. The yard's next launch, project name Zeus, is even bigger.