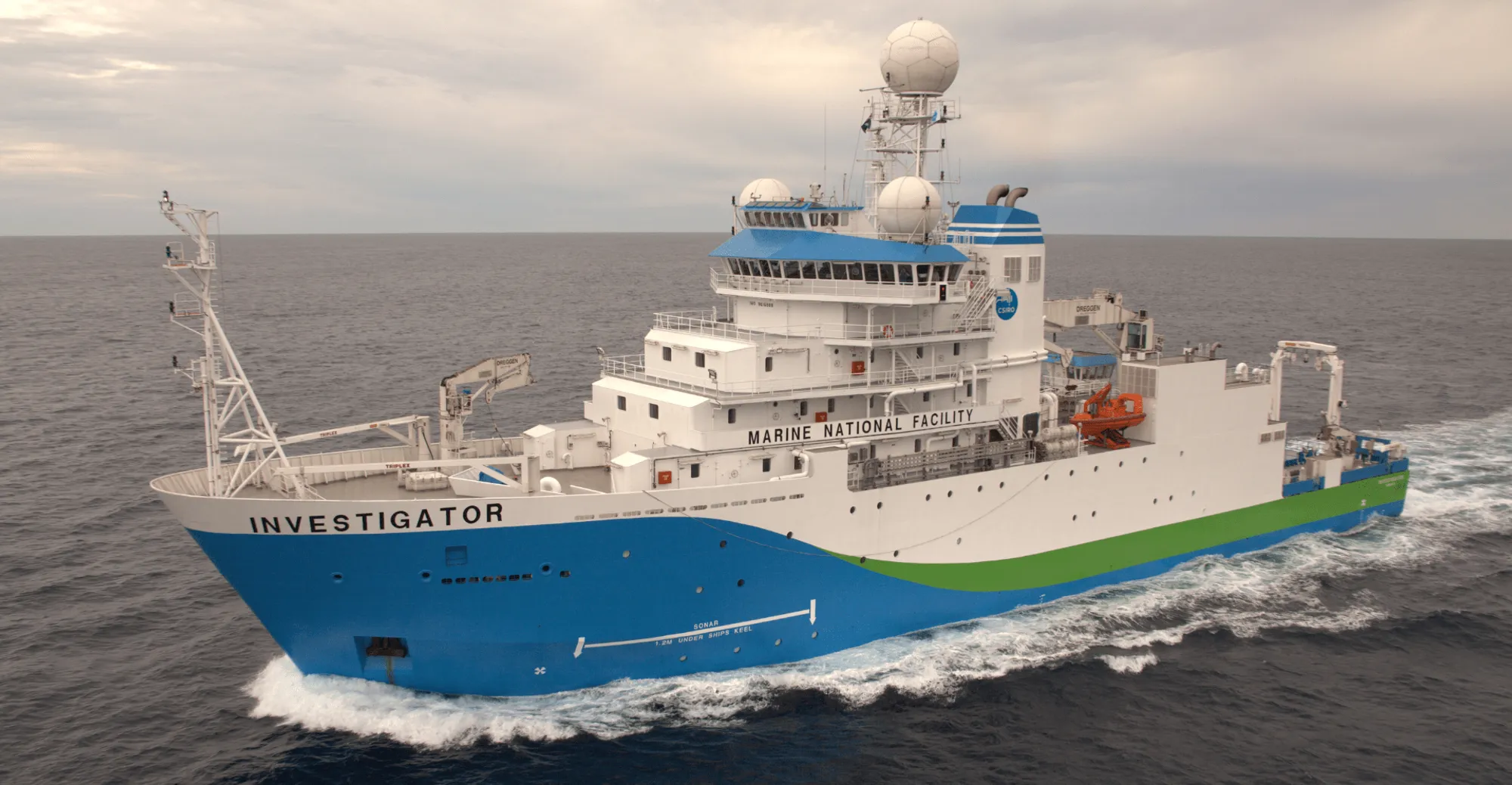 | | |
| --- | --- |
| Country of delivery | Singapore |
| Delivery year | 2015 |
| IMO NO. | 9616888 |
| Length | 93.30 m |
| Name vessel | Investigator |
| Owner | CSIRO |
| Shipyard | Sembawang Shipyard Pte Ltd |
| Subsidiary | H&H Singapore |
| Vessel type | Research Vessel |
HVAC | Research Vessel Investigator
In May 2009 the Australian Government allocated budget for a new oceanographic research vessel for CSIRO (Commonwealth Scientific and Industrial Research Organisation) to replace the 66 metre Southern Surveyor, which was built in 1972. The Investigator is a 93.9 metre research vessel, capable of travelling 10.800 nautical miles in a single voyage, carrying up to 40 scientists and support staff, from the equator to the Antarctic ice-edge.
Research capability
Investigator is configured to enable a wide range of atmospheric, biological, geoscience and physical oceanographic research. The vessel is outfitted with a range of state of the art equipment, including an atmospheric sampler, cranes, a gravity meter, a sediment coring system, moorings, and much more.
Future Research Vessel Project
Investigator was designed, built and commissioned through the 'Future Research Vessel Project'. Teekay Holdings Australia Pty Ltd was awarded the contract to design, build and commission the new vessel. Sembawang Shipyard Pte Ltd in Singapore has built the vessel and Heinen & Hopman Singapore has supplied the HVAC system, the Provision Cooling Plant and climate control systems in the science laboratories.
Operate as quiet as possible
Investigator is one of only a handful of research vessels in the world designed for very quiet operation and has the ability to undertake acoustic mapping and sampling to the deepest parts of our oceans. In order to maximise the performance of the acoustic equipment and minimise environmental noise, the ship is DNV-Silent-R compliant which is achieved by minimising noise from all on board machinery. This will increase the range and resolution of seabed mapping, sub-surface imaging, and marine ecosystem monitoring instruments, and it will allow scientists to provide better estimates of the number of fish and other species in the marine environment. Attaining the low noise requirement was the greatest challenge for Heinen & Hopman Singapore, but creating whisper-quiet HVAC equipment is Heinen & Hopman's expertise and thus requirements were met.
The vessel's maiden voyage took place in December 2014, and, since then, Investigator has already made valuable discoveries, including a 50 million-year-old volcano cluster recently.
More information
Would you like to get more information about our HVAC solutions? Don't hesitate to get in touch.