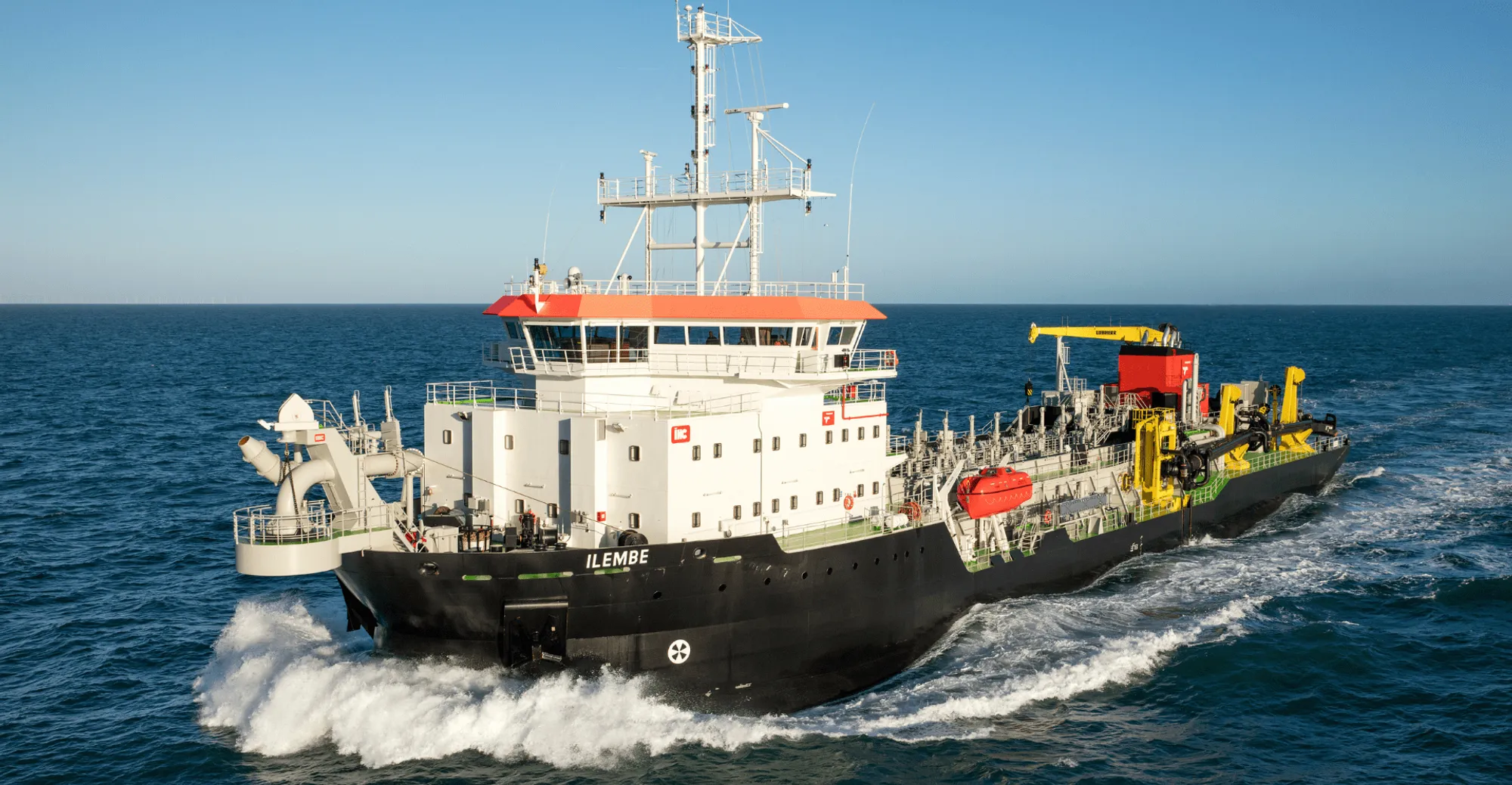 | | |
| --- | --- |
| Country of delivery | The Netherlands |
| Delivery year | 2016 |
| IMO NO. | 9741891 |
| Length | 101.5 m |
| Name vessel | ILEMBE |
| Owner | Transnet National Ports Authority (TNPA) |
| Shipyard | Royal IHC |
| Subsidiary | H&H Headquarters |
| Vessel type | Dredger |
Air Conditioning & Ventilation | ILEMBE
ILEMBE was built by Royal IHC for Transnet National Ports Authority (TNPA), the national port authority of South Africa. ILEMBE is the largest dredging vessel of its kind operating in this country. TNPA required a highly reliable dredger, resulting in low-maintenance requirements, an excellent dredging performance, high workability and high levels of safety. The new dredger will be deployed to work mainly in the international seaports of South Africa, but may also be deployed elsewhere on the continent. TNPA is responsible for two main service categories: the provision of port infrastructure and the provision of maritime services such as dredging and marine operations.
About Royal IHC
With a history steeped in Dutch shipbuilding since the mid-17th century, Royal IHC has developed in-depth knowledge and expertise of offshore, dredging and mining equipment and vessels. By continuously developing new technologies, the company strives to offer its customers smarter and safer operations and increased efficiency and sustainability.
HVAC
Heinen & Hopman was selected to supply the air conditioning, mechanical ventilation supply and mechanical ventilation exhaust for the dredger.
Air Conditioning
The heart of the air conditioning (serving the accommodation, wheelhouse and galley) is a sturdy, marine executed central air handling unit (ahu) with a galvanized casing, facilitating the mixing, filtering, heating and cooling of the air.
Mechanical Ventilation
The mechanical ventilation supply and exhaust equipment was specially selected to withstand high corrosion environments. Axial flow fans' blades are die cast in an extremely corrosion and wear resistant aluminum alloy, mist eliminators are made of seawater resistant aluminum, centrifugal duct fans are mounted within a pre-galvanized sheet metal housing and the duct system is executed in galvanized steel.
Design conditions
The following design conditions for the heating and air conditioning system for accommodation spaces were requested:
Outside-Inside Summer
Outside: +35˚C/70%R.H. or +32˚C/80%R.H.
Inside: +25˚C/50%R.H.
Outside-Inside Winter
Outside: 0˚C
Inside: +20
Like to know more?
For more information about our HVAC systems for dredgers and other vessels, don't hesitate to get in touch.