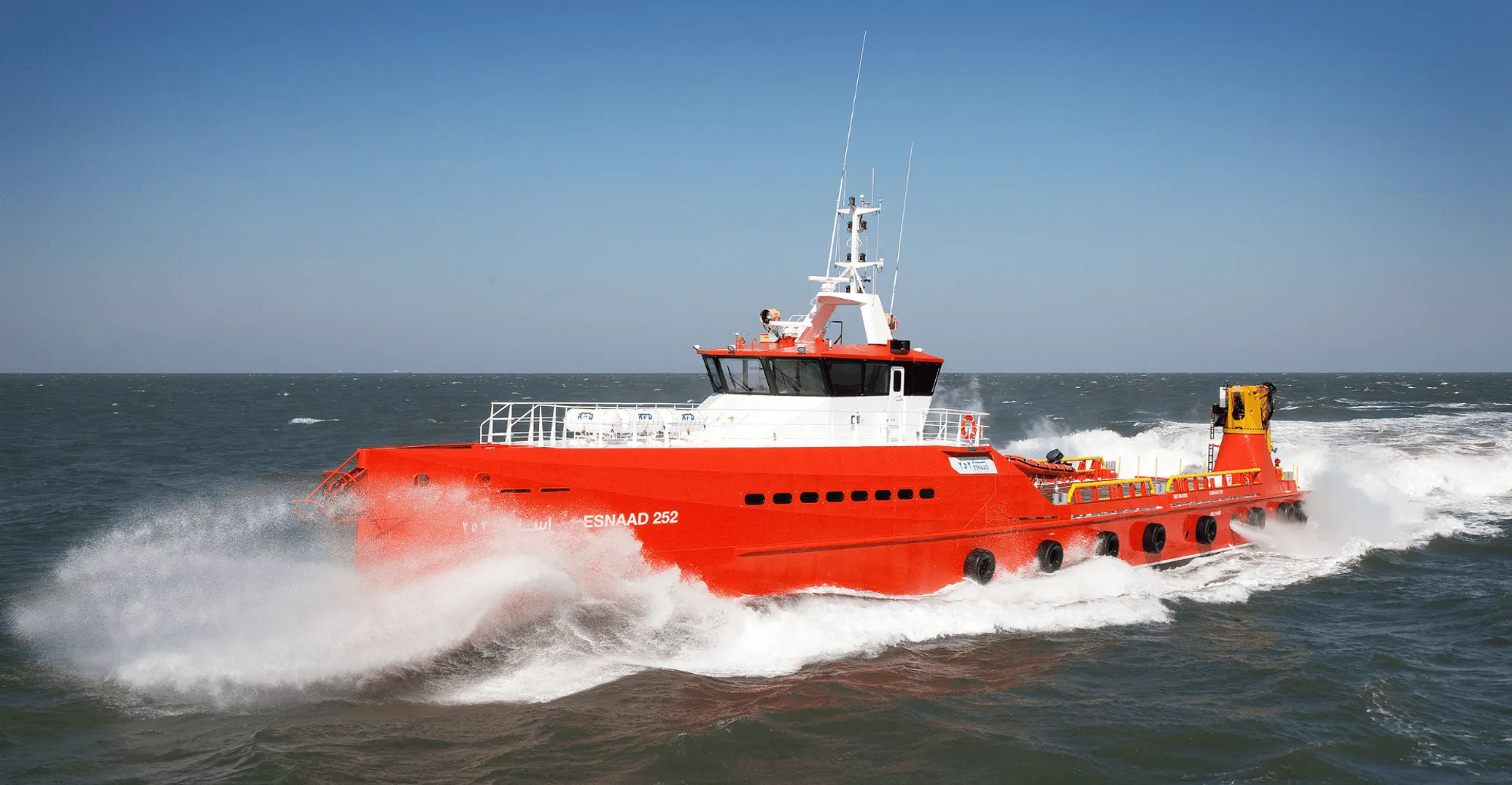 | | |
| --- | --- |
| Country of delivery | The Netherlands |
| Delivery year | N/A |
| IMO NO. | N/A |
| Length | 53.25 m |
| Name vessel | N/A |
| Owner | N/A |
| Shipyard | Damen Shipyards |
| Subsidiary | H&H Headquarters |
| Vessel type | Offshore Supply Vessel |
HVAC | Fast Crew Supplier 5009
Designed for the quick and safe transport of crew and materials in rivers, harbours, coastal waters and offshore, the Damen 5009 Fast Crew Supplier has an innovative Sea Axe hull form that gives it unparalleled seakeeping behaviour. The vessel is highly fuel-efficient and equipped with everything required to fulfil its various functions.
Challenges
The challenge for Heinen & Hopman was to design a standard HVAC system for use in different types of accommodation (crew and/or passengers area) without changing the main pipes, compressor, condenser, etc., while achieving in all conditions an indoor temperature of 28°C with 50% RH at 45°C with 45% RH outdoors.
Scope of work
Heinen & Hopman's scope of work was the design, equipment delivery and commissioning of the HVAC system and refrigeration system in one of Damen Shipyards' hull yards abroad. The equipment supplied included all parts of the air conditioning and mechanical ventilation system, including refrigeration and control panels.
Our solution
For the different accommodation divisions, an air conditioning system was selected with one air handling unit featuring an optional heating section and one seawater-cooled condensing unit. At the customer's request, we also designed and made a space reservation for a stand-by air handling unit and seawater-cooled condensing unit. A crossover ducting/plenum between the air handling units makes it easy to switch between the units.
Scope of supply
One or two air handling units (customer request)
Five axial flow fans
Six centrifugal duct fans
One galley extractor hood
Fire dampers and smoke dampers
Cabin units
Punica louvres
Mist eliminators
Sand filters serving engine room
Provision store refrigeration
Control panels
Would you like to get more information about our HVAC technology? Don't hesitate to get in touch. We are eager to inform you about the possibilities.