| | |
| --- | --- |
| Country of delivery | The Netherlands |
| Delivery year | 2016 |
| IMO NO. | 1012804 |
| Length | 55.00 m |
| Name vessel | ELIXIR |
| Owner | Confidential |
| Shipyard | AMELS |
| Subsidiary | H&H Headquarters |
| Vessel type | Motor Yacht |
HVAC | MY Elixir
Built in 2016 in the Netherlands at Amels shipyard, ELIXIR is an enchanting incarnation of the successful Limited Editions Amels 180. The yacht features Tim Heywood exterior design and has a modern look characterized by jet black gloss and stainless steel around the superstructure.
AMELS
Located in Vlissingen, the Netherlands, Amels has been building ships since 1918. The shipyard has built more than 50 luxury yachts since their first luxury cruising delivery in 1982. Amels became part of Damen Shipyards in 1991 and benefits from the Damen group's outstanding research and innovation expertise and facilities.
AMELS 180
Amels describes the Limited Editions AMELS 180 as an ever-evolving Tim Heywood design that has made this 55-metre one of the most refined and smooth-functioning yachts on the market. ELIXIR sleeps up to 12 guests in 5 cabins, including an owner's suite, 2 double cabins and 2 twin cabins. The enlarged sun deck – 25 metres long with a luxury space of 155 square metres – could make a strong claim to being the largest sun deck you'll find on any 55-metre.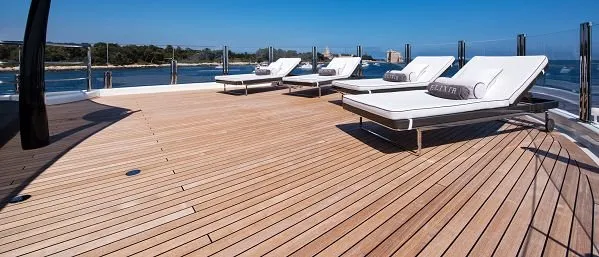 A perfect indoor climate
Few onboard systems are more crucial to the comfort and well-being of yacht owners, crew and guests than the climate control system. Heinen & Hopman was selected to deliver the air conditioning, fresh air system, mechanical ventilation supply and mechanical ventilation exhaust.
Design Conditions
The following design conditions were requested:
Air Conditioning Summer
Outside: 35˚C/80% RH or 40˚C/55% RH
Inside: 22˚C/55% RH or 25˚C/55% RH
Heating Winter
Outside: -5˚C
Inside: 22˚C
More information about this project?
If you would like to get more information about this project, please don't hesitate to get in touch.
*Photo courtesy: AMELS