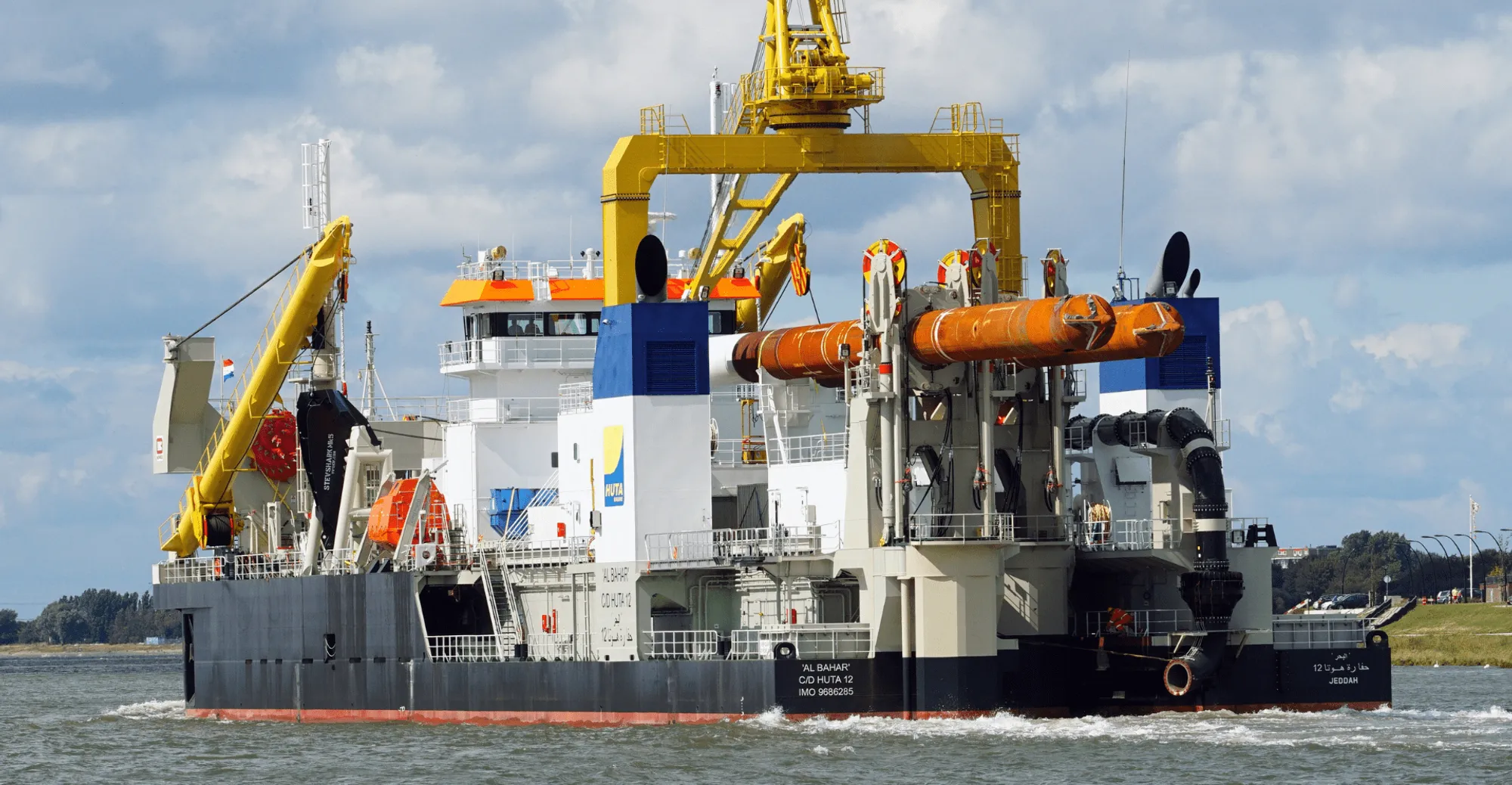 | | |
| --- | --- |
| Country of delivery | Netherlands |
| Delivery year | 2014 |
| IMO NO. | 9686285 |
| Length | 122.5 m |
| Name vessel | AL BAHAR C/D HUTA 12 |
| Owner | Huta Marine Works |
| Shipyard | Damen Shiprepair Vlissingen |
| Subsidiary | H&H Headquarters |
| Vessel type | Dredger |
HVAC | Al Bahar
The Al Bahar C/D Huta 12 was designed by IHC Merwede (Royal IHC) for the company Huta Marine Works, established in Saudi Arabia. Al Bahar was named after one of the favorite horses of Prophet Muhammad and it means strong, smooth and swift, like the flow of running water. The innovative Al Bahar is a 23,545 kW self-propelled cutter suction dredger which will be deployed primarily on both sides of the Arabian Peninsula, where the vessel will dredge hard soil in difficult climate conditions.
Characteristics
The dredger is 122.5 meters long and 21.7 meters wide and can reach a speed of 9 knots. The vessel has been built using the latest technological developments and is equipped with a travelling deck crane, azimuth thrusters and separate accommodation for the sailing and operating crews, in which 40 people can be accommodated.
A challenging project
The Heinen & Hopman team rose to the challenge and designed, manufactured and installed the chiller plant, air handling units and the complete supply and exhaust ventilation system. The greatest challenge for the team was to design HVAC systems that are resistant to the extreme climate conditions in the Middle East, such as sea water of 38 degrees Celsius and high outdoor temperatures.
Despite the great challenge of designing and installing the HVAC installation onboard the Al Bahar during an internal relocation of the engineering department and building location from IHC, Heinen & Hopman managed to get this project delivered on time and satisfied the client.
Before delivery to Huta Marine Works, the dredger has gone through extensive sea trials. In October 2014, the vessel started its journey to Saudi Arabia, where it was delivered at King Abdullah Port, a newly dug harbor about 140 kilometers north of Jeddah.