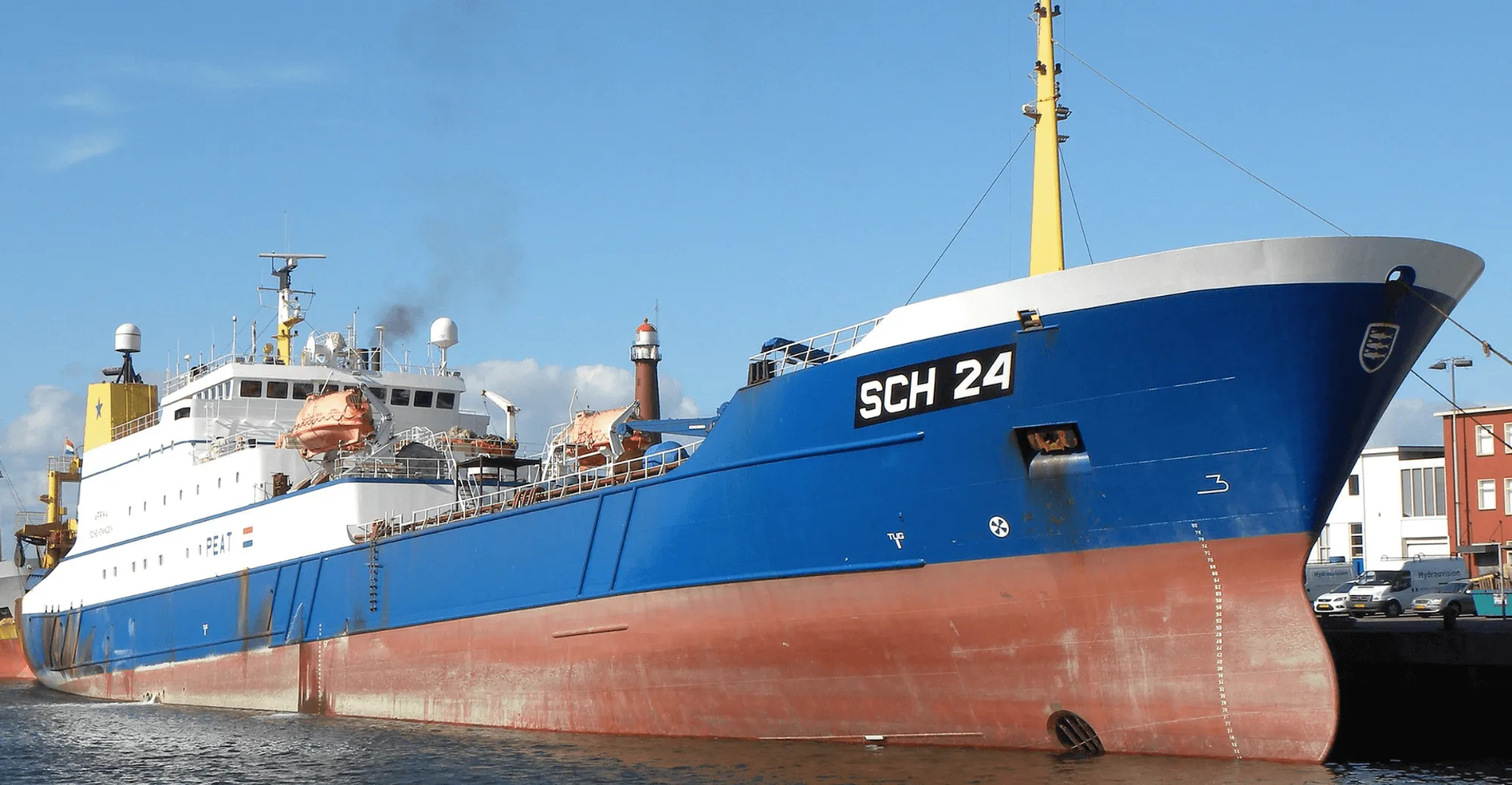 | | |
| --- | --- |
| Country of refit | The Netherlands |
| IMO NO. | 9175834 |
| Length | 126.0 m |
| Name vessel | Afrika |
| Owner | Jaczon Visserijmaatschappij Afrika BV |
| Shipyard | Damen Shiprepair Vlissingen |
| Subsidiary | H&H Headquarters |
| Vessel type | Freezer Trawler |
| Year of refit | 2015 |
HVAC Refit | Factory Trawler Afrika
Factory freezer trawler Afrika (SCH24) was built in 1999 for shipping company Jaczon Visserijmaatschappij Afrika BV, established in Scheveningen, the Netherlands. Jaczon is a leading player in the field of international fisheries, fish processing and transport of chilled and frozen products and uses sustainable fishing techniques. Already in 1999, Heinen & Hopman was involved during the build of the Afrika and supplied the cooling system onboard this factory freezer trawler.
European f-gas regulations
After more than 15 years of service and many fishing trips, Jaczon decided in 2014 that the 126 meter factory trawler was in need of a refit. As of 2015, European F-gas regulations prohibit refilling cooling and freezing systems with recycled R22. Therefore, rebuilding the freezing and cooling systems was required in order to operate the vessel in 2015.
Heinen & Hopman's scope of work
Thanks to the pleasant cooperation with Heinen & Hopman in the past, Jaczon chose Heinen & Hopman as their HVAC&R supplier in 2015. Heinen & Hopman was responsible for the complete refit of the marine refrigeration. At Damen Shiprepair Vlissingen, the vessel's cooling system was rebuilt in order to meet the new European F-gas regulations. Instead of R22, R417 and R407F are used as refrigerants in the cooling systems. Furthermore, Heinen & Hopman supplied the following HVAC products and services for the Afrika:
Duct cleaning
Cabin units
Engine room fans with noise dampers
Exhaust fans with noise dampers at the working deck
Mist eliminators and outdoor louvres
Galley ventilation
Engine Control Room ventilation
An exhaust system at the working deck has been installed in order to eliminate mist
Additionally, the accommodation block for the 40 crew members has been extended and renovated. The vessel is ready for operations again!
Refit expert
Heinen & Hopman has a load of experience in refits, not just for commercial vessels. We examine the expected design conditions and cooling capacity of existing equipment onboard and design the best refit solution for the vessel. Our skilled engineers and craftsmen ensure you a first class Dutch refit.