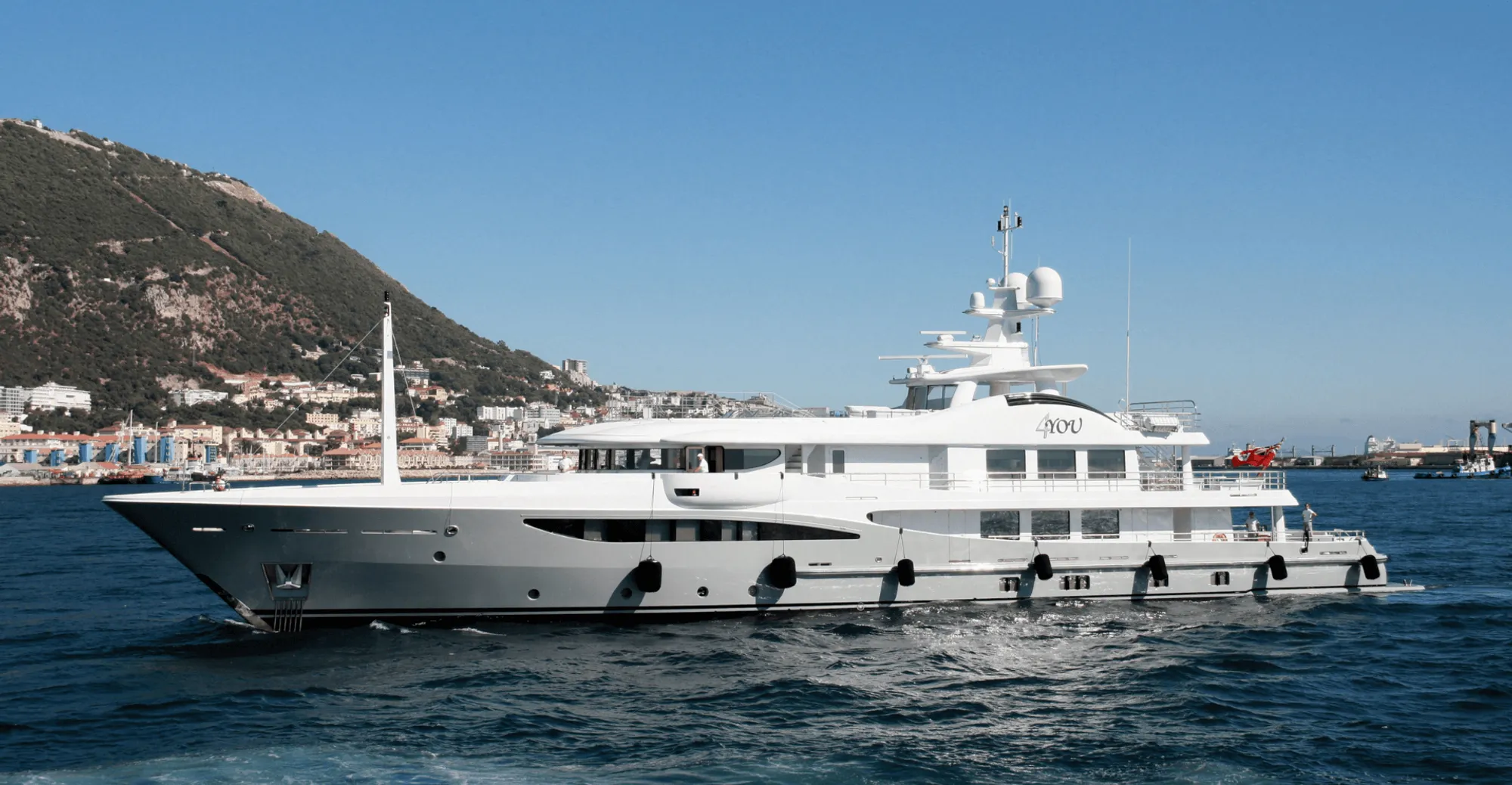 | | |
| --- | --- |
| Country of delivery | The Netherlands |
| Delivery year | 2012 |
| IMO NO. | 1011111 |
| Length | 55.00 m |
| Name vessel | 4YOU |
| Owner | Confidential |
| Shipyard | Amels |
| Subsidiary | H&H Headquarters |
| Vessel type | Motor Yacht |
HVAC | MY 4YOU
Luxury motoryachts such as 4YOU sail around the world and are exposed to the hottest climates possible at sea. This calls for a powerful yet quiet cooling system for the accommodation. In addition to owners and their guests, a superyacht crew also needs a cool environment in which to live and feel comfortable. This demands a reliable installation that always performs.
A superior air conditioning system not only cools or heats the interior, shielding its occupants against conditions outside – it must also cool internal heat sources and equipment. An underestimated function of Heinen & Hopman's fresh-air system is its precise humidity control.
Control the comfort
The system onboard 4YOU is designed to maintain the accommodation temperature at a constant 22°C with a maximum of 55% air humidity; the optimal personal comfort experience.
As personal ideas and wishes can differ, however, each room or space is provided with one or more fan coils that are controlled by our self-developed FC-500 controller. This ensures a precise and stable room temperature, whatever the outside temperatures or conditions. Heating is provided by built-in heating elements in the fan coils.
The inside temperature and fan speed is controlled using the local digital display. It can also be controlled by means of the entertainment operating system, which is hooked up to the HVAC system.
Fresh air is supplied by our custom-made fresh-air units, which treat the air by means of filtering, cooling and dehumidifying/warming. The fresh-air units create a slight overpressure in the accommodation to keep out pollution.
The filter elements in the fresh-air system are of operation-room quality to ensure that no fine dust, soot or other microscopic pollution enters the high-quality interior.
Designer solutions
During the engineering and construction of luxury yachts, Heinen & Hopman pays special attention to the exact location and design of the ventilation system's air inlets and outlets.
The challenge of achieving the best airflow through a space while placing the grills (almost) invisibly in the ceilings or walls is the subject of ongoing discussion and cooperation with interior designers and craftsmen.
The final result is an invisible and quiet (less than 45dB(A)) air-conditioning system.

Tell the difference
Although 4YOU is part of a limited edition family of yachts, its luxury interior is entirely custom-made and Heinen & Hopman has adjusted the climate control system to suit her individual design. In order to create the most comfortable living space, the following was installed:
Three seperate chillers in the engine room
Two main central air-treatment units
Two extraction units
Over 35 fan coil units
Would you like to get more information about our HVAC technology? Don't hesitate to get in touch. We are eager to inform you about the possibilities.