Rotary Tube Cleaner
Of the many components of a chiller, the tubes are one of the most impactful in terms of overall energy efficiency. If your condenser is struggling to reach a full refrigeration load or has been reaching higher pressures than expected, it's likely you have buildup that's increasing your energy spend.
Cleaning efficiency-robbing deposits in heat exchanger tubes is essential in order to maintain maximum heat exchanger performance and lifetime. The deposits inside the tubes impede the flow of cooling water, decrease heat transfer, and damage the tube surfaces.
Cleaning condenser tubes
The solution to this problem is to frequently clean condenser tubes to remove deposits and restore the tubes back to base metal and proper operating efficiency. When cleaning heat exchangers and condensers it is important to attempt to maximize the quality of the cleaning as well as the safety of the process, while at the same time minimize the cost of the cleaning.
Using the compact and lightweight Rotary Tube Cleaner, chief engineers can easily clean straight tubes in shell & tube heat exchangers (seawater cooled condensers) and not only extend the lifetime of the condensers, but also save time. Simultaneously the service space needed for cleaning is strongly reduced compared to cleaning with brush and rod by hand.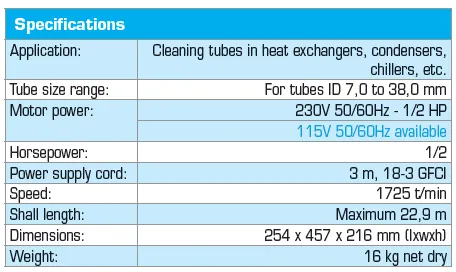 "We have just recently used the new Rotary Tube Cleaning machine on our condenser tubes. What a wonderful machine! It makes the job so much easier and less mess. I wish I had this machine years ago, thanks for introducing me to it. Every yacht should have one of these marvellous machines!"
– Shaun Connolly, Chief Engineer MY Montkaj
"It works a dream!"
– Richard Nicholls, First Engineer MY Dilbar
"We purchased the electric rotary tube cleaner for our sea water cooled AC condensers and my team could not be  happier. The down time with maintenance has been seriously reduced. It is now a one man job to clean condensers and it is a lot more efficient than manual cleaning. The machine makes this otherwise laborious task, a child's play. I knew the rotary cleaners from the merchant navy ships and was happy to find a wide range of offers for different size condensers. Strongly recommended."
– Celestino Sobral, Chief Engineer MY Quattroelle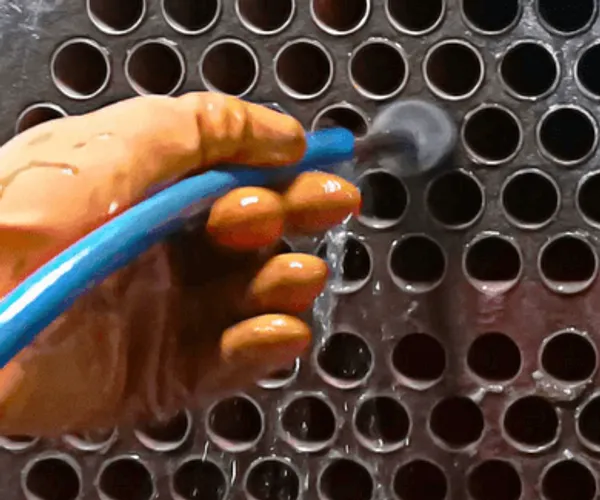 Brochure
Rotary tube cleaner
The powerful tube cleaner handles the demanding environment of commercial contracting work like no other tube cleaner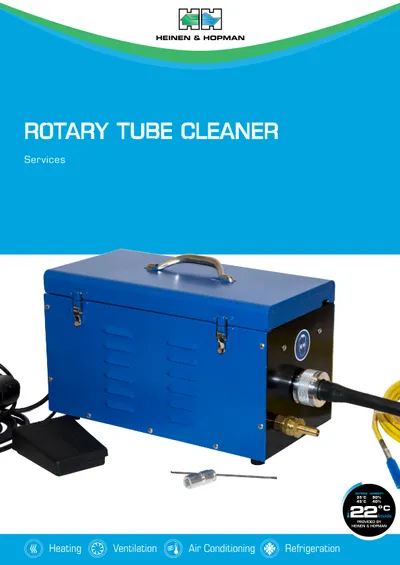 Looking for a custom solution?
Don't hesitate to contact us for advice for your specific needs.