Refrigerant Recovery Kit
The Environmental Protection Agency (EPA) has been phasing out ozone-depleting refrigerants because they increase the potential of global warming. EPA has also prohibited technicians from intentionally or knowingly venting refrigerants that harm the environment and mandates that technicians recover refrigerants containing HFOs, HCFCs, and HFCs instead of venting them.
All the equipment you need in one kit
To enable chief engineers to make repairs and maintenance to almost all types of refrigeration and air conditioning units in a controlled way, we have introduced a Refrigerant Recovery Kit. This set contains all the (approved) equipment you need to recover, recharge and re-use refrigerants during system maintenance and service:
Recovery unit; to transfer the refrigerant
Refrigerant cylinder; to store the refrigerant
Digital vacuum meter; to carry out a pressure test
Vacuum pump; to purge the system
Portable leak detector; to check that the unit is free of any leakages
Filling tube (ball valve included)
Electronic digital manometer test set (for all refrigerants) or a gauge manifold analog test set with refrigerant hoses (please inform refrigerant type)
Set hoses for test set (blue/red/yellow)
Large adapter
Small adapter
Cost-saving solution
The Refrigerant Recovery Kit will also help you save money over the years as less refrigerants have to be purchased for re-charges. As the prices of many refrigerants are increasing every year, the cost savings can become significant.
In compliance with regulations
The refrigerant recovery package complies with all US EPA, EU and other government agency regulations.
Brochure
Refrigerant Recovery Kit
Developed for marine use, Heinen & Hopman's refrigerant recovery kit enables you to handle recovery from a vessel's refrigeration system in a controlled manner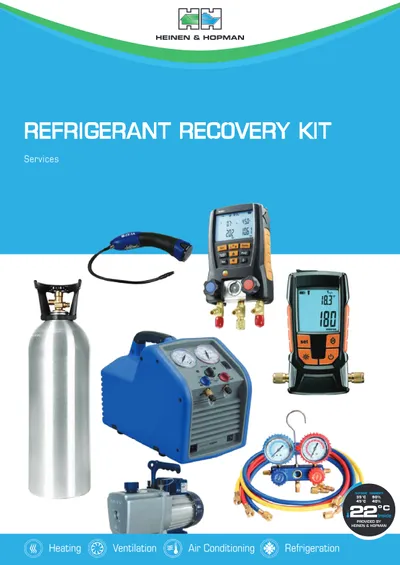 Looking for a custom solution?
Don't hesitate to contact us for advice for your specific needs.