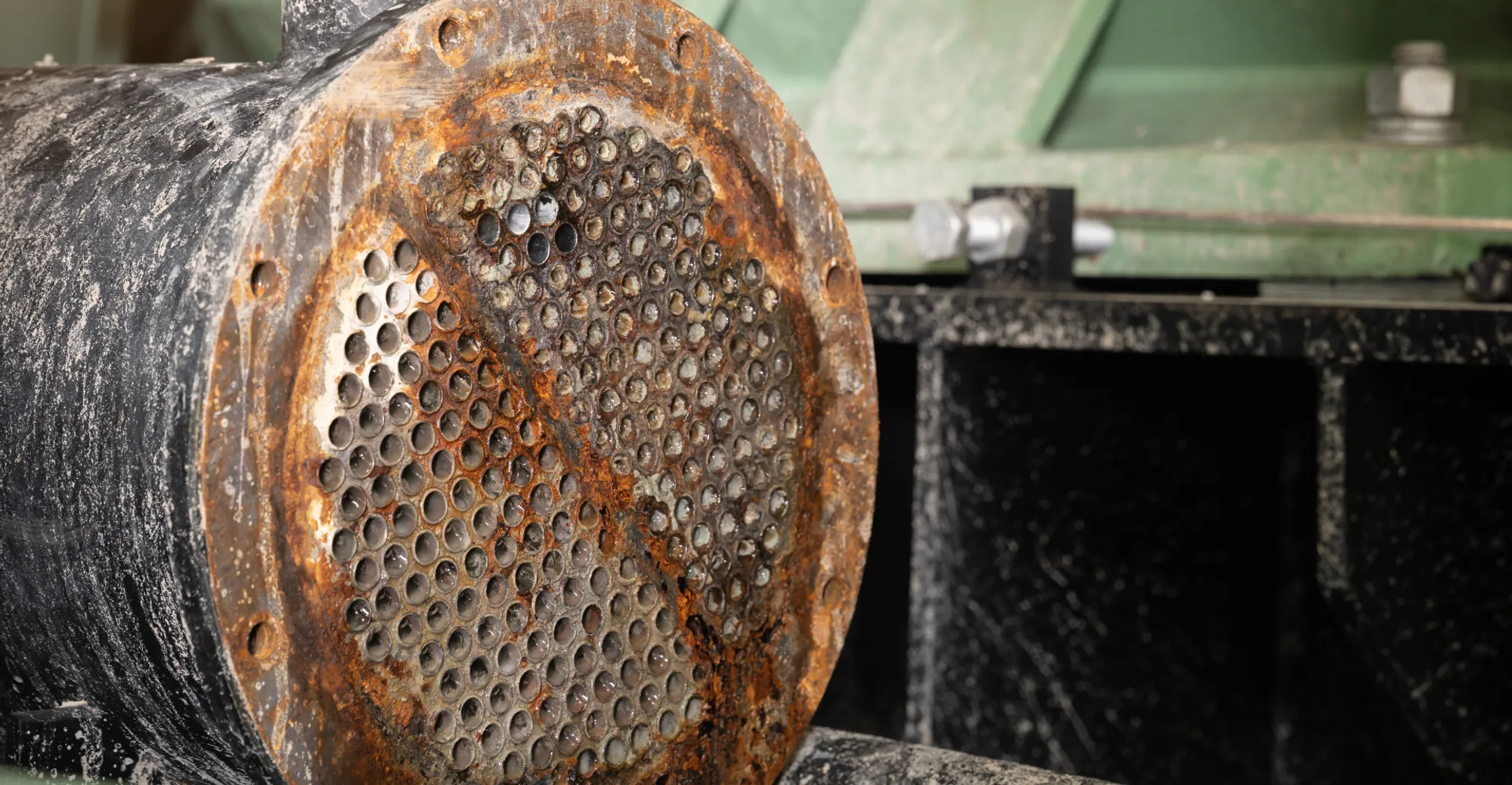 Five proven ways to keep your condenser in shape
Five proven ways to keep your condenser in shape
– by Sjoerd Post – 01/10/21
How to prevent condenser fouling and keep your system in the best possible condition? The second part of a diptych about pollution in seawater-cooled condensers, this blog explains what measures you can take.
Heat exchanger or condenser fouling is a recurring issue on many vessels and can lead to a range of problems including chilled water alarms and capacity loss. As we saw in our previous blog, condensers can become polluted in a variety of different ways.
Here we share five tips for keeping your condenser in the best shape:
Choice of material
Water velocity
Regular cleaning
Filters
Sacrificial anode
1. Choice of material
The first step is taken way before a condenser is even placed onboard by choosing the right material. CuNiFer and aluminium-brass condensers are very suitable for the use of seawater cooling. Used in combination with clear seawater, these alloys will naturally form a protective film on the tube surface. This layer protects the tubes against biological fouling and corrosion.
2. Water velocity
Warm and stagnant water is the perfect habitat for micro-organisms such as algae and bacteria to form. Although you cannot control the temperature of seawater, one parameter you can adjust is the velocity. While a steady flow of seawater makes it difficult for micro-organisms to grow, an excessive flow increases the chances of the protective film layer being destroyed, enhancing the likelihood of erosion corrosion. A minimum flow of 1 m/s is advised. The maximum flow depends on the material and diameter of condenser tubes.
3. Regular cleaning
Although it can be a challenging task, the condenser should be checked for fouling and cleaned with a special nylon brush at least every three months. Condensers out of service (with no seawater flow) for a period longer than three days must be drained and thoroughly dried with air. This applies to both heat exchangers made of ferrous material and CuNiFer or aluminium-brass exchangers. Although the latter develops a naturally formed protective layer, it is necessary to ensure an environment in which this layer can regenerate.
4. Filters
Incoming seawater must be filtered from the coarsest particles such as plants and grass as well as the debris and other materials which clog the tubes. Once a course particle becomes stuck inside the tube, water velocities around the wedged particle increase. This can lead to erosion corrosion and, eventually, pipe rupture. Just like the condensers themselves, these filters need to be regularly checked and cleaned.
5. Sacrificial anode
With a condenser made of CuNiFer or aluminium-brass it is best to use a sacrificial anode made of cast iron. The ferrous ions released from this anode enhance the creation of the protective layer and reduce the corrosion rate of the alloys. It is important to place the sacrificial anode within the vicinity of the condenser. Ferrous ions exist only for a limited time, which under normal conditions is less than three minutes.
Final thoughts
The pollution of the condenser depends heavily on the quality of seawater. When sailing in areas where the seawater is clean and clear with relatively low temperatures, fouling will be significantly lower compared to warm, murky waters. Attention is especially required in summer periods, when berthed in harbours or during maintenance. Make sure there is always water flowing over your condenser.
Sjoerd Post | Senior Engineer QESH
Sjoerd Post has been working at the QESH department of Heinen & Hopman since 2015. With his technical background he is responsible withing the QESH department for implementing standards and performing technical research for the company.