Plug & Play: A new, easy way to install your HVAC system
Plug & Play: A new, easy way to install your HVAC system
Imagine you can install your HVAC products as you do with Lego blocks. Thanks to the internet, we have access to thousands of step-by-step instructions on how to build a Lego carousel at any level of complexity and at your own pace. With the Heinen & Hopman Plug & Play system, building an HVAC system is now as easy as playing with Lego.
The Heinen & Hopman Plug & Play system is standardised and made out of blocks you can choose and fit to create the exact system you need. It is a ready-to-use concept that only needs to be connected to the control panels and chilled water pipes. The whole system, from fresh air units to fan coil units and engine room ventilation, can be picked to choose an HVAC system that is suitable for your vessel.
All Plug & Play units have been designed using the latest technologies available. Brushless EC motors installed on fan coils, air handling units and engine room fans provide noise and vibration reduction compared to traditional units. Furthermore, all motors used are designed and manufactured according IEC-60034 and related regulation IE-4 (super premium efficiency). By this feature, the Plug & Play system looks at the future, when these requirements will be a "must" also in yachting industry.
To top it all off, there is a full technical library with building instructions ready to be consulted on demand. The digital library provides you with all the information you need to integrate the HVAC system: from layouts and setups to interfaces, from the HVAC system with interiors to various examples of the location of the units inside furniture.
Our Plug & Play systems are integrated in a web platform called ARIA, an interactive air conditioning control platform. This lets you access your HVAC system via laptop or smartphone, giving you full control over the system wherever you are. It also features an online list of spare parts for easy ordering. The spare parts are sent directly to your vessel, so there is no need to go ashore.
Download the Plug & Play catalogue now to see what it can do for your boat!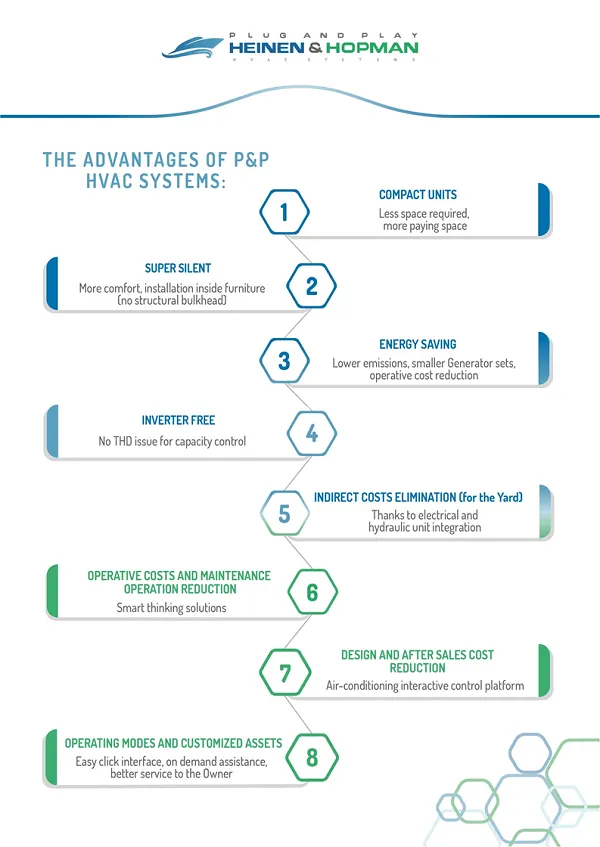 NOTE: LEGO® is a trademark of the companies of the LEGO Group. This website is not supported, authorized or approved by the LEGO Group.