A new, easy way to install your HVAC system
A new, easy way to install your HVAC system
– by Francesco Ficara, 10/09/19
His dad was suitably impressed. "Wow, how did you do that?"
It feels really great to really impress someone you respect, like a parent or teacher. It's an even better feeling when you see that they can't quite figure out how you did it – while it's because you know a trick that means you barely broke a sweat.
Many things that look impressive and work great are ultimately quite easy to do once you know how.
Well, this blog will talk about how to do just that with building an HVAC system in a 'sprezzatura' kind of way.
HVAC: just like Lego?
Little Jimmy got a Lego spaceship for his eighth birthday. He was super proud and happy, and placed the package on a cabinet in his bedroom while playing with the spaceship. After a few weeks he got bored. Then he noticed the image on the side of the box.
It showed a carousel made out of the same Lego blocks as the spaceship. It would even spin if you pulled a wheel. Jimmy got to work: he took the spaceship apart and then closely followed the picture on the side of the box to build the carousel.
Once he finished it, he took it downstairs and showed it to his dad, who was suitably impressed.
"Wow, how did you do that?" he asked.
A YouTube library full of examples
We can imagine something like this happening in the early 1990s, when we didn't have YouTube, on-demand videos or music clips, or anything similar – we didn't even have internet as we know it today. At the time, we watched MTV and counted ourselves lucky if our favourite music clip aired while we were in front of the TV.
Things are very different today. Thanks to the internet, we have access to a huge library of information, from instructions on how to put together a bookcase to recipes for amazing barbecue meals.
I bet there are thousands of videos and step-by-step instructions on how to build a Lego carousel or a million things like it, at any level of complexity and at your own pace. Just look at all the things you can make in Lego nowadays.
Plug & Play
What if building an HVAC system was as easy as playing with Lego? But then, why wouldn't it be? If the system is standardised and made out of blocks you can choose and fit to create the exact thing you need, it shouldn't be that hard.
This is what we have done with the new Heinen & Hopman Plug & Play HVAC system – a ready-to-use concept that only needs to be connected to the control panels and chilled water pipes.
You can select the components of your HVAC system as if from a giant box of Lego.
Looking for a three-stage chiller?
Take your pick – how about three blocks of 15 kW?
And the same goes for the whole system, from fresh air units to fan coil units and engine room ventilation. You can think of them as blocks of different sizes that you put on your boat, just like that.
And to top it all off, there is a full technical library with building instructions ready to be consulted on demand.
The digital library provides you with all the information you need to integrate the HVAC system: from layouts and setups to interfaces, from the HVAC system with interiors to various examples of the location of units inside furniture.
Stay connected, anywhere
OK so Lego is cool – but it's also kind of old school. Nowadays we are more used to mobile devices like smart phones and laptops, and saving data in the cloud. It makes our lives easier.
This is why we have integrated our Plug & Play system with a web platform called ARIA, an interactive air conditioning control platform. This lets you access your HVAC system via laptop or smart phone, giving you full control over the system wherever you are.
It also features an online list of spare parts for easy ordering. The spare parts are sent directly to your vessel, so there's no need to go ashore.
Plug & play philosophy
Remember how easy it was for Jimmy to build his Lego carousel from a single picture? Imagine what you can create with clear instructions.
That is what our new Plug & Play system gives you: the ease of building in Lego blocks combined with modern-day technology.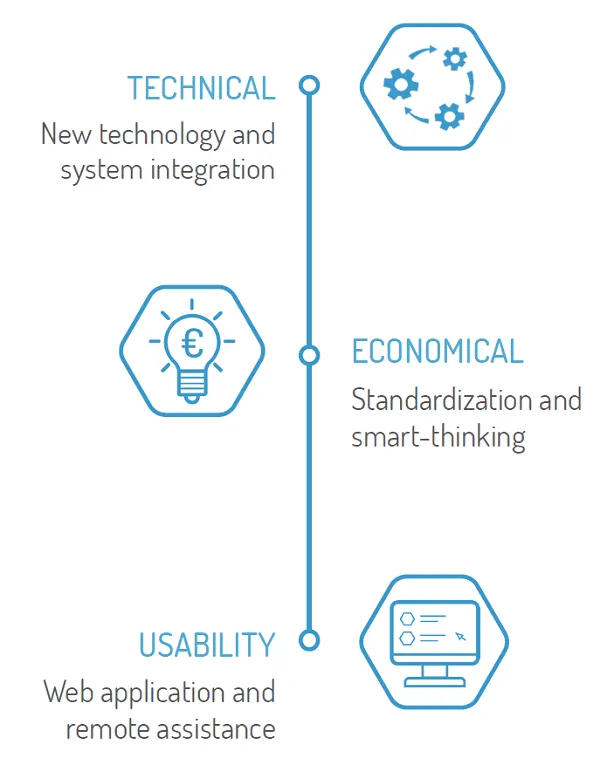 Francesco Ficara | Managing Director Heinen & Hopman Italy
Francesco Ficara has been working at Heinen & Hopman Italia since 2009. After nine years at H&H Italia as technical manager, Francesco became Managing Director in 2018. He gained great experience in HVAC naval system and in 2017 he started the "Plug&Play" adventure, the new line of innovative HVAC products which have been launched on March 2019.