Saving Energy with Waste Heat Recovery
Saving Energy with Waste Heat Recovery
Working towards sustainability in the yachting industry
– by Jan Reichardt, 27 October 2016
The energy consumption onboard a yacht is very high. With an expanding global fleet of large yachts consuming ever greater amounts of energy and increasing social pressure to reduce environmental impact, the large yacht industry needs to respond accordingly. A staggering 40 – 60% of the total energy consumption is used for operating the HVAC systems and therefore the HVAC system is one of  the main targets for efficiency improvements. In order to reduce the costs of ownership of a yacht and working towards our goal of making the yachting industry more sustainable, we are continuously researching innovative solutions for reducing energy consumption.
How could an HVAC system contribute to energy savings?
Several techniques can be applied in order to maximize the HVAC system's energy efficiency, without having to make concessions regarding the onboard climate. Our top priority is comfort, especially for the superyacht industry. We take several steps in order to achieve maximum efficiency of the HVAC system:
We use high-efficiency fans
We build high-efficiency chillers (cold water machines)
We implement heat recovery systems
Waste heat recovery systems
A significant amount of energy in an HVAC system is needed to warm up the cooled air in an air handler. By warming up the cooled air we can ensure a perfect inside air humidity. The heating source can be by means of an electric air heater, but also by a warm water fed air heater. The ship's generators produce a lot of waste heat by means of cooling water and exhaust. This waste heat can be harnessed to heat the AC air using a "waste heat recovery system". Such a system requires a heat exchanger to recover the waste heat from the generator(s). Thereafter, the recovered heat (by means of warm water) is divided through the AC system by a warm water pump unit. Using this system, less electricity is required due to the fact that the air heaters use the generators' waste heat, instead of producing warm air with electric powered heaters.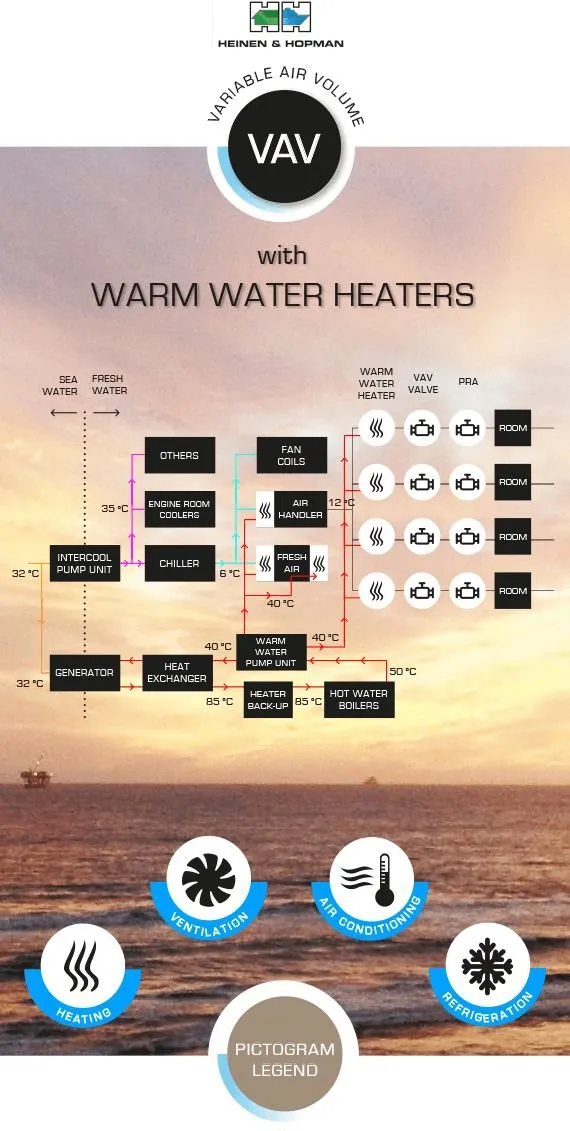 For an average 60-metre yacht we can achieve substantial energy savings by implementing heat recovery. The graph below shows an energy saving of over 80 kW at an outdoor temperature of +5˚C. At colder conditions the energy saving is even larger…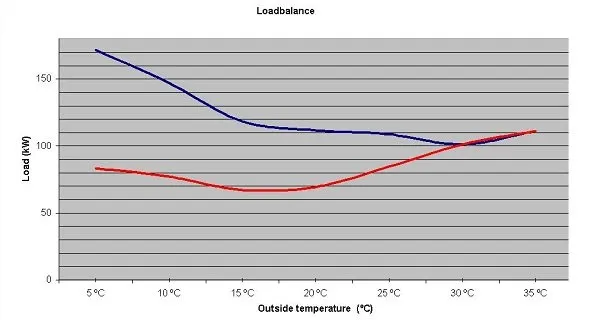 Blue line = average HVAC energy consumption on a 60-metre yacht equipped with conventional heating system
Red line = average HVAC energy consumption on a 60-metre yacht equipped with heat recovery system
A significant impact
Simple technological changes like waste heat recovery systems can be made today to ensure that the vessels of the future are more energy efficient, while reducing the operational costs of the vessel from day one.
Jan Reichardt | Project Manager
Jan Reichardt is Project Manager at Heinen & Hopman and has been working at H&H for already 25 years. He works for shipyard Amels in Vlissingen, The Netherlands and develops the most prestigious projects in the superyacht industry. His many years of experience in this exciting industry brings us interesting stories which he likes to share with the world.