Ultimate control of your climate system!
Ultimate HVAC control online!
Easy monitoring of heating, ventilation and air conditioning
– By Jan Reichardt, February 29
Today, we live in a digital, online world. Every random activity from doing the groceries to reserving a table in a restaurant, can now also be arranged online. And that's clever, super clever. The online world is faster, within reach, can be used anytime and anywhere and gives access to plenty of valuable information. In your free time, but also in business. At Heinen & Hopman, we make use of these advantages by online support of the climate systems we put in yachts. What its possibilities are and what this actually means, I would like to share with you in this blog.
User friendly and 100% control
Imagine being a transport company which exports large amounts of food by sea, from continent to continent. Or, on a smaller scale: you're in recreation and offering sightseeing tours. How useful would it be if you could have influence on the climate of a space or room, anytime and everywhere? A 100% control of heating, ventilation and air conditioning of every space. Our clever online control systems, our control units, make this happen. Each HVAC control unit can be controlled from one single central point. This means that every piece of information about the climate control (ventilation volume, temperature, system on or off, moisture, etc.) can be visualized and adapted.
High accessibility: win-win!
Every data and any other form of information about the air conditioning of your room or space is monitored and stored within the climate control units. Nice-to-know: this data can also be shared with other digital control systems like devices such as tablets or smartphones. For example, guests and owners of luxury yachts are able to control lighting, curtains, entertainment and even the temperature of their room. Along with the high informational value, you could also see this accessibility as a form of service to your customer; win-win!
Support on demand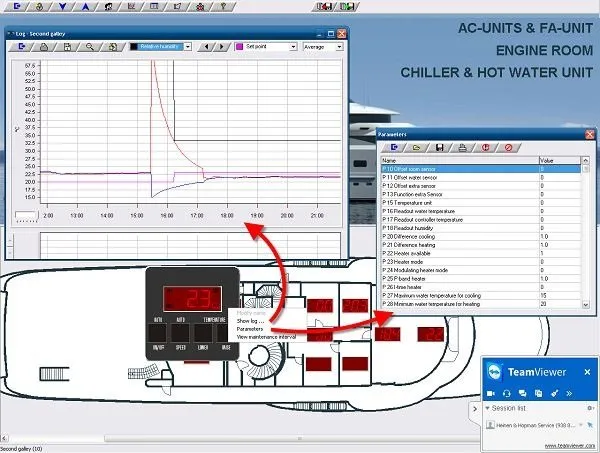 Another big advantage of the digital control units in our climate systems, is the possibility of online support on demand. Whenever an engineer of a yacht has problems or is in need of assistance within the management of air conditioning, ventilation and heating, at Heinen & Hopman, we use TeamViewer (software which gives access to your device) to take over the system. In this way we're able to detect unusual things according to temperature, water temperature, set points, fan speed, alarms, etc. And: just from our headquarters in Spakenburg! Easy.
Jan Reichardt | Project Manager
Jan Reichardt is Project Manager at Heinen & Hopman and has been working at H&H for already 25 years. He works for shipyard Amels in Vlissingen, The Netherlands and develops the most prestigious projects in the superyacht industry. His many years of experience in this exciting industry brings us interesting stories which he loves to share with the world.