HVAC Upgrade FPSO
In 2012 Heinen & Hopman was awarded the contract to upgrade the HVAC systems of an FPSO which was originally built in 1983. The FPSO was sold to a new owner in 2012, but had to undergo an extensive refit before being deployed in the oil fields.
Function of an FPSO
A Floating Production, Storage and Offloading unit is a floating vessel used by the offshore oil and gas industry for the production and processing of hydrocarbons, and for the storage of oil. These vessels are particularly effective in remote or deep water locations, where seabed pipelines are not cost effective. As the costs for laying these expensive pipelines are eliminated, FPSOs are an economically attractive solution for smaller oil fields, which can be exhausted in a few years.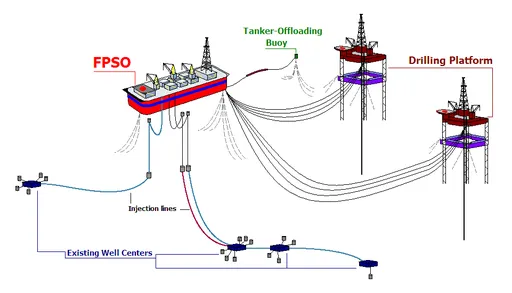 HVAC upgrade
The contract awarded to Heinen & Hopman included the following items:
engineering of new HVAC systems;
manufacturing, procurement and delivery of systems;
removal of existing systems;
installation of new systems;
testing and commissioning.
The refit was a challenging project in terms of engineering, planning and logistics. It was a multi-disciplinary (heating, ventilation, air conditioning, refrigeration and sanitary hot water systems) project that had to be completed in a tight project schedule. Moreover, the work had to be done at different project locations. The following systems were provided by Heinen & Hopman:
HVAC system accommodation
2x 50% DX-cooling system
1x Air Handling Unit
205kW heating
Steam humidification
280kW cooling, 2x 50% redundancy
2x 100% redundant fan
1 lot Supply ornaments with electrical re-heating
1 lot Extraction systems serving various rooms (e.g. Galley, Hospitals, Recreation rooms, etc.)
1x Central HVAC control & monitoring system, including redundant PLC
1x Sanitary hot water system for a POB of 96 persons
1x Temporary Refuge (TR) filter-/pressurization system.
Provision refrigeration system
1x 2x 100%  refrigeration compressor skid
4x Evaporator for cooler/freezer rooms
1x Central HVAC control & monitoring system
Engine room and various technical spaces
1x Engine Room ventilation system with active pressure control
1x Air Compressors air supply system
1x Chilled water cooling system serving various areas (e.g. Integrated Equipment Room, Server Rooms)
2x Ventilation system for Fire Pump Rooms including active power ventilation
HVAC system Electrical Power Module (EPM)
2x 100% ventilation/pressurization system
1 lot Active pressure control for individual rooms
3x AC-unit, with 2×50% fan section – total cooling capacity of 240kW
3x Air Cooled Condensing Unit for AC-unit – AISI-316, ATEX Zone II
HVAC system Power Utility Module (PUM)
2x 100% ventilation/pressurization system
1 lot Active pressure control for individual rooms
1x AC-unit with 2×100% fan section – total heating capacity of 80kW
1x Air Cooled AC-unit serving Instrument Room – AISI-316, ATEX Zone II
More information about HVAC Refits
Upgrading the HVAC system also provides you with the benefits of the latest technology. New equipment operates much more efficiently compared to older systems and consequently operating costs can be strongly reduced.