H&H Singapore Supplies Two MGO Coolers for M.V. 'Happy Clipper'
H&H Singapore Supplies Two MGO Coolers for M.V. 'Happy Clipper'
Heinen & Hopman Singapore has successfully secured the order for two units of MGO coolers from Grand Seatrade Shipping Company Ltd for vessel M.V. 'Happy Clipper'. This Hong Kong-flagged bulk carrier was built in 2001 and in order to meet upcoming emission limitations, Grand Seatrade Shipping Company Ltd realized they had to adapt the vessel's operations.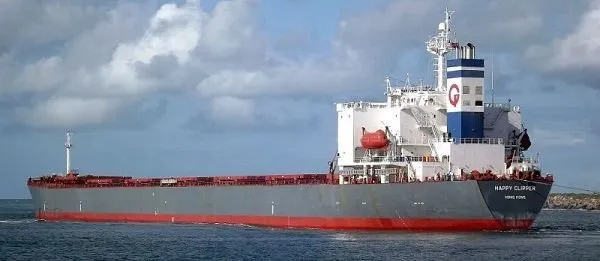 MARPOL sulphur emission regulations
The MARPOL sulphur emission regulations impose a great challenge on the shipping industry. Currently, the most widely used fuel in the shipping industry is Heavy Fuel Oil (HFO), but these contain lots of sulphur and heavy metals and burning them emits large amounts of air pollutants. Therefore, HFO's are considered a major environmental issue worldwide. In order to meet the upcoming limitations, one of the most suitable options is switching to MGO (Marine Gas Oil).
Operating low sulphur MGO
The refinery process to remove sulphur impacts viscosity and thus lubricity. Operating low viscosity, poor lubricating fuel could cause damage in the engine fuel pump, which is originally designed for high viscosity fuel (HFO) operation. In order to provide proper film-forming properties to protect pump moving parts from wear and tear, engine manufactures advice to keep a minimum fuel viscosity of 2 cSt at the fuel pump inlet. To ensure doubtless operation at start and stop of engines, a viscosity level over 3 cSt is strongly recommended. Fuel oil viscosity depends on the temperature and can be raised by gradually cooling down.
The solution
Grand Seatrade Shipping Company Ltd involved Heinen & Hopman Singapore in order to find a solution for operating MGO. The Heinen & Hopman MGO Cooler model HH MGO 4SW & HH MGO16 SW were introduced to serve  the main and auxiliary engines onboard the 'Happy Clipper'. The MGO cooler has been developed based upon decades of experience in successful worldwide sold and operating Heinen & Hopman marine chillers. Thanks to a precise fuel temperature control, the HH MGO cooler ensures an optimal protection for any type of engine when fuel is switched from HFO to MGO. The Heinen & Hopman units are compact and customized, easy to retrofit and adapt to any existing or new-build vessel. 
For more information, see the brochure MGO Cooler.pdf (812kB)