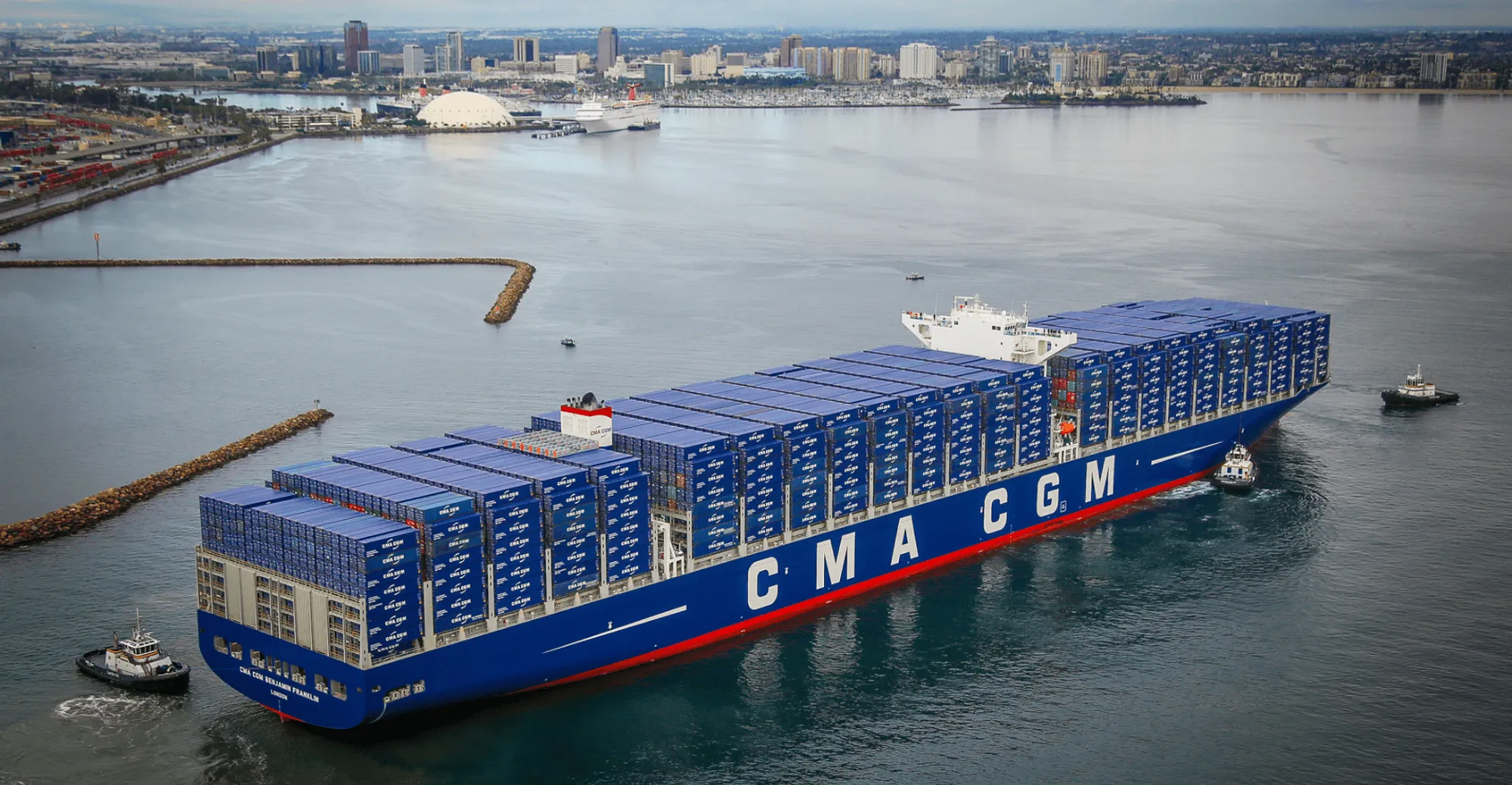 22000 TEU Container Vessels
| | |
| --- | --- |
| Country of delivery | CHINA |
| Delivery year | 2019 |
| IMO NO. | T. B. A. |
| Length | 400 |
| Name vessel | T. B. A. |
| Owner | CMA CGM GROUP |
| Shipyard | CHINA STATE SHIPBUILDING CORPORATION (CSSC) |
| Subsidiary | H&H CHINA,H&H HEADQUARTERS |
| Vessel type | Container Vessel |
Cargo Hold Ventilation | 22000 TEU Container Vessels
French shipping company CMA CGM is a leading worldwide transport and logistics group with a young and diverse fleet of 509 vessels. In the last few years, the company has taken delivery of some of the largest container ships in the world, like the 20,600 TEU flagship CMA CGM ANTOINE DE SAINT EXUPERY. Currently, another nine 22,000 TEU vessels are under construction at CSSC shipyard, China. Due to their capability to transport 800 high and standard cubes reefer containers in the cargo hold at the same time, the container vessels will be some of the largest container ships in the world upon delivery. Furthermore, these ships are the first ultra-large container ships to burn LNG, confirming CMA CGM's ambition to be a leading force in the industry in environmental protection.
Cargo hold ventilation with RCP notation Standard
Heinen & Hopman was selected to supply the cargo hold ventilation system for the nine vessels. It was a challenging project, because of a demanding RCP notation standard and the random combination of high and standard cubes reefer containers inside the cargo hold. In all conditions, 4500m3/h outdoor air, with a maximum of 10% tolerance, has to be blown through the 1/3 lower part of each container.
CFD simulation
To ensure a good air distribution in the ducting and the right temperature distribution inside the cargo hold, Heinen & Hopman has conducted an air flow design and carried out CFD simulations. Both the structure of the cargo hold has been considered as well as the influence of the open deck.
Due to the CFD simulations, the heat generated by the reefer containers can be removed effectively and the right amount of air is distributed on each supply grill outlet.
Heinen & Hopman  worked closely together with CMA CGM and the designer to develop the best ventilation system. Under the extremely high energy saving requirements of CMA CGM, 148 sets cargo hold fans with 85% efficiency are equipped on board.
Scope of supply
Design for cargo hold ventilation ducting
Ventilation fans for cargo hold area
Ventilation fans for engine area and technical spaces
Ventilation fans for accommodations
CFD simulation for cargo hold and engine room ventilation
Mock up test for cargo hold ventilation
More information
Would you like to get more information about cargo hold ventilation with RCP notation? Don't hesitate to get in touch. We are eager to inform you about the possibilities.