Replacement Chiller
An air conditioning chiller is an essential piece of equipment onboard of any vessel. When it fails the greatest challenge in case of replacement is the difficult accessibility. This expensive and time-consuming job involves cutting a side opening into the hull, removing the existing chiller and mounting a new one in its place.
The Heinen & Hopman Replacement Chiller
Heinen & Hopman develops innovative chillers that are designed and manufactured as a kit. Designed as a permanent solution, these chillers are suitable for transporting through doors and hatches inside a ship. A great benefit is that a side opening in the hull is not needed.
Reducing operating costs
In addition to the obvious money savings, this also means you don't have to wait to replace your old chiller with a state-of-the-art, fully customizable 'Replacement Chiller'. These new designed chillers, such as the Turbocor compressor chiller, operate much more efficiently compared to older types so operating costs will be strongly reduced.
Chiller types
The Replacement Chillers are available in standard sea water or fresh water cooled version.
2-Stage Chillers: 20, 30 & 40 TR
3-Stage Chillers: 40, 50 & 60 TR
Heinen & Hopman handles the complete project, from design to onboard assembly and commissioning. Moreover, each  Replacement Chiller is fully tested in our sophisticated test facility for functionality and capacity before leaving the factory. All chillers can be custom-built to meet any specific requirements, right down to the paint color and cooling capacities up to unlimited levels.
More information about Replacement Chillers
Don't hesitate to contact us for more information about our Replacement Chillers. Our skilled engineers are eager to explain the possibilities for your vessel.
Download the Replacement Chiller brochure for detailed information and technical specifications.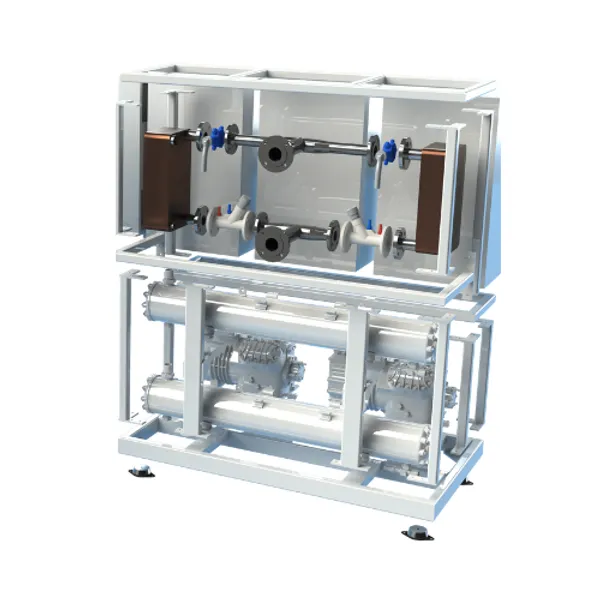 Brochure
Replacement Chiller
An AC-chiller is an essential piece of equipment onboard a ship. So when a unit breaks down, is it better to repair the unit or replace the chiller altogether?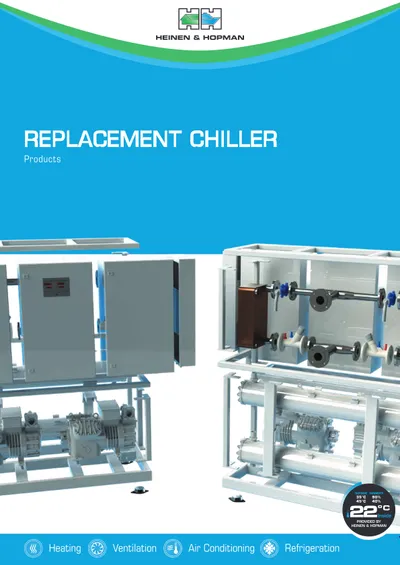 Looking for a custom solution?
Don't hesitate to contact us for advice for your specific needs.