Low-magnetic Chiller
The low-magnetic shock-proof chilled water unit is specially designed for cooling of chilled water on Mine Counter Measure Vessels (MCMV). By using the right materials the magnetic permeability of the complete unit is kept below the maximum allowable value. This way magnetic mines will not be triggered by the ships magnetic interference. The specially designed shock proof frame in combination with the selected shock mounts makes the unit suitable to withstand high shock loads.
Download brochure  Contact us
Key features
Two separate cooling circuits;
Capacity control 25 / 50 / 75 / 100%;
Special low magnetic compressors / motors;
Shock proof tested according MIL-S-901;
Magnetic silencing characteristics according MIL-STD-2142A;
Airborne & structure borne noise according MIL-STD-740-1/2;
Mechanical vibrations according MIL-STD-167;
Compact design in two modules making the unit suitable to be transported through small openings;
Build on and fully pre-wired control panel;
Cables according MIL-C-24640 & 24643;
Stainless steel SS316Ti frame.
More information about the Low-Magnetic Chiller
Don't hesitate to contact us for more information about our low-magnetic chiller. Our skilled engineers are eager to explain the possibilities for your vessel or structure.
Download the low-magnetic chiller brochure for detailed information and technical specifications.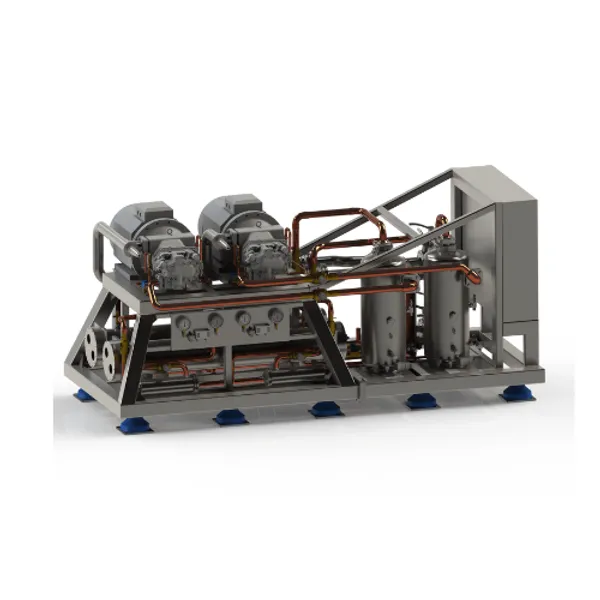 Brochure
Low-magnetic chiller
The low-magnetic shock-proof chilled water unit is specially designed for cooling of chilled water on Mine Counter Measure Vessels (MCMV).
Looking for a custom solution?
Don't hesitate to contact us for advice for your specific needs.