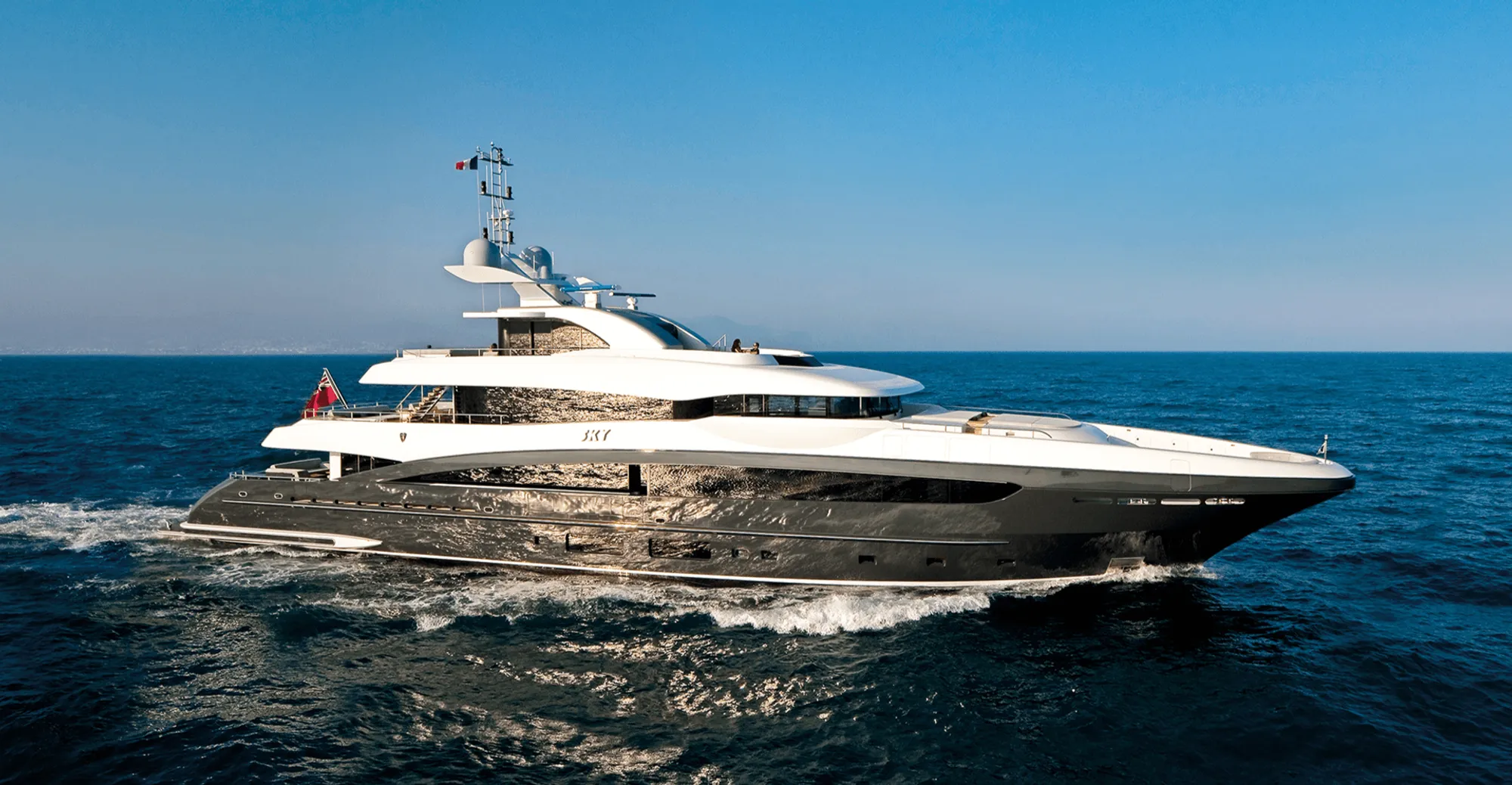 | | |
| --- | --- |
| Country of delivery | The Netherlands |
| Delivery year | 2014 |
| IMO NO. | 1010806 |
| Length | 51.10 m |
| Name vessel | Sky |
| Owner | Confidential |
| Shipyard | Heesen Yachts |
| Subsidiary | H&H Headquarters |
| Vessel type | Motor Yacht |
HVAC | MY Sky
Sky is a 49.80-metre custom-built motor yacht, built by Heesen Yachts and delivered to her owner in 2010. Heinen & Hopman supplied the air conditioning, heating, ventilation and refrigeration systems.
The design conditions
The following design conditions were requested:
Outside-Inside Summer
Outside: +40°C/80% R.H.
Inside: +22°C/50% R.H.
Outside-Inside Winter
Outside: +5°C
Inside: +20°C
Scope of the delivery
In order to meet the design conditions, the yacht features:
Air conditioning and heating
A custom-built chilled water unit with a capacity of 180 kW and frequency controlled compressors and seawater pumps.
44 air handling units serving 33 interior spaces with local control panels. 
The chilled water cooling plant will be in continuous operation. It consists of two compressors, two seawater-cooled condensers, two heat exchangers and frequency inverters for soft start. The chilled water pumps deliver chilled water of 6°C (supply temperature) and 12°C (return temperature) to the fresh-air and fan coil units.
The air-handling unit consists of a cooling block, chill chaser, fan, drip-tray with a double drain connected to a separate drain tank and electric actuated three-way valve. Fan coil units are cooled with water from the chilled water unit. Each fan coil unit is controlled by a frequency controller for room temperature, fan speed settings and a display panel. When areas need heating, the built-in electric heaters heat the supply air. 
Ventilation
Two fresh air and two exhaust units are installed to ventilate interior spaces. The fresh air units consist of a filter section, pre-heater, cooling section, re-heater and fan section. Each fresh air and exhaust unit is equipped with its own switchboard, including frequency inverters for the fans.
Additionally, a number of exhaust ventilation systems have been fitted to ensure the ventilation of the galley, driers, forepeak, tender garage, bowthruster and other technical spaces. A complete demisting system ensures clear windows in the wheelhouse.
The engine room features two WS630 supply fans with a capacity of 18,000 m³/h each. This is sufficient for combustion air and cooling for the main engines and generators, as well as for ventilating the engine room. The fans are frequency controlled for speed management and are set to maintain a slight overpressure in the engine room. The required capacity of the engine room ventilation system is calculated according to DIN ISO 8861.
The emergency generator room features a HU-40 supply fan with a capacity of 2,100 m³/h. This fan will serve the combustion air of the generator and, in addition, will ventilate the area and create some overpressure. 
Refrigeration
In order to meet the requirement of cooling the provisions, a combined custom-made cold/freezer room, as well as a custom-built trash store of 600 litres, has been installed onboard MY Sky.
The design temperatures are:
Cold room +3 °C
Freeze room -20 °C
Trash store -5 °C
The provision cooling plant serving the cold/freezer room and trash area is assembled entirely in one frame with two compressors and two seawater-cooled condensers, where one circuit will be used as back-up. The frequency controllers serving the compressors are built into a switchboard, as is the electric thermostat with digital display for controlling the systems.